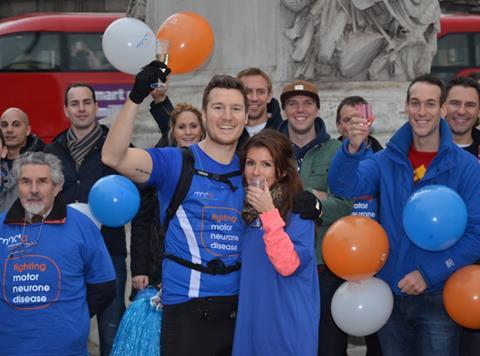 Magners national account manager Dave Knowles has raised more than £15,000 for the Motor Neurone Disease Association after completing 13 marathons in 13 days.
The marathon challenge was the 13th gruelling event completed by Knowles this year. Other events he has taken part in include Tough Guy, the London Triathlon, and the Great North Run.
Starting at Admiral Collingwood's monument in Tynemouth on 1 December, he ran through Newcastle, Durham, Harrogate, Nottingham, Leicester and St Albans before completing the challenge on 13 December at Nelson's Column.
Knowles had originally aimed to raise £13,000 for the charity in memory of his mother-in-law Linda, who died of motor neurone disease in 2008.
"I would like to thank everyone for their kind support and donations, including Booker, Parfett's, Elbrook, Dhamecha and The C&C Group," he said.
"It was an amazing experience and now I'm just looking forward to a big Christmas dinner!"
His wife Danielle added: "I am so proud of Dave, unfortunately he never met my mum but I know she would have been so touched by everything he is doing, as I am!"