Petcare suppliers have been fighting like cats and dogs for their share of a category that's slipped slightly in both value and volume over the past year - having grown 2.2% and 4% respectively in 2011.

With the RSPCA reporting a sharp rise in the number of abandoned pets, some 'pet parents' are clearly struggling to afford petfood. The problem has been compounded by continued commodity-driven price hikes, a key factor behind both own label's modest value growth (last year, sales were down) and its falling volume sales, with suppliers being forced to reduce pack sizes to maintain price points.

The brands, on the other hand, have seen values slip but volumes increase slightly, thanks chiefly to continued heavy promotional activity. As ever, some have fared better than others. The cats once again got the cream, with Felix and Whiskas pouches retaining first and second places - although Whiskas volumes were flat, suggesting price inflation may have helped.

The strongest performers, however, were Wagg Complete and Gourmet Pouch, which posted double-digit value and volume growth (in Gourmet's case for the second year running), elevating them both two places up the table to within touching distance of the top 10.

Further down the pecking order there have been two significant shifts. After doubling its value sales year-on-year, Mars Petcare's cat snacks brand Dreamies has clawed its way into the top 20 - the only new entrant this year. But marking the end of an era, Kitekat has fallen from last year's 18th place out of the ranking altogether.

It is no coincidence that two of the three worst performers in the top 20 were canned products (Felix and Butcher's canned). There continues to be a migration to smaller, pouch formats that often carry a more premium or even super-premium price tag - which pet owners are trying to mitigate by balancing their pets' diets with more affordable fare, often in the form of dry complete foods.

"Consumers are really smart about each and every purchase they make. They are shopping across a wider range of shops and formats in their search for choice and value," confirms Mars customer development director John Pickering. "But they are still prepared to pay for premium products."

In short, the market is polarising - and this is reflected in NPD levels, which have not been high this year, but have arguably been stronger at the premium and value ends of the spectrum than in the middle ground. In both cases, the focus has been very much on adding value, either with higher-quality ingredients, boosted health credentials, greater convenience or new textures and flavours - often heavily influenced by human food.
TOP LAUNCH 2012
Felix Goody Bags Nestlé Purina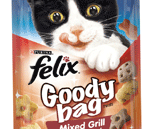 It only slunk on to shelves in April, but Felix Goody Bags have already grabbed a 7.2% share of the lucrative cat treats market, claims Nestlé Purina. Taking on Mars Petcare's Dreamies in a sector that's grown a whopping 34.8% in the past year, the brand's USP is that each 60g resealable pouch contains three different treats - for example, chicken, liver & turkey (the Original Mix) or salmon, pollock & trout (the Seaside mix) - as well as being packed with vitamins and omega-6 fatty acids.