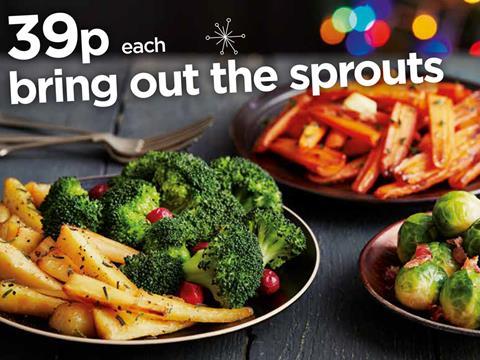 A Christmas veg war is driving down prices of festive favourites, with Asda and Tesco going head to head with the discounters by slashing prices on some key lines to 39p.

Asda this week moved 500g Brussels sprouts and parsnips, 1kg carrots and a whole broccoli to a 39p price point - an average price cut of 43% across the veg lines.

Tesco had previously announced the return of its Festive Five fresh produce promotion, with prices 20% cheaper than last year. The retailer is tempting shoppers to stock up with 39p prices on 2.5kg white potatoes, 1kg carrots, 500g parsnips, a whole cauliflower and 500g Brussels sprouts. "We are helping to take some of the stress out of customers' Christmas shop, as well as providing fantastic savings," said a Tesco spokeswoman.

But the discounters have still managed to undercut the mults. Aldi has cut the prices of whole broccoli, 1kg carrots and 2kg Maris Piper potatoes to 29p as part of its Super Six veg promotion. Lidl has gone further by introducing a 22p price point for 1.5kg of British mini roast potatoes, with 1kg carrots, 500g parsnips and 500g Brussels sprouts at 29p.