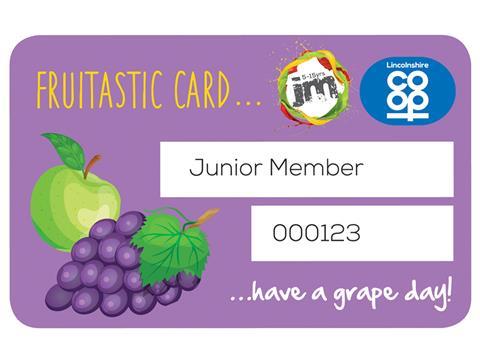 Lincolnshire Co-op is giving away fruit portions to its junior members, with every child entitled to one portion every day of the summer holidays.

By presenting a Fruitastic membership card, the schoolchildren ages five to 15 can claim a snack bag of pineapple or water melon or a banana, pear or apple every day until 5 September.

The Lincoln-based co-op, which has 83 stores, said 500 children had filled in forms to apply for membership since the offer began on Friday (22 July).

It is expecting to give away 3,500 portions of fruit over the course of the school summer holidays in a policy it said combined encouraging healthy eating with engaging with young shoppers and rewarding co-op membership.

"We have more than 250,000 adult members in the Lincolnshire Co-op and 2,700 junior members and the philosophy behind this is that co-op members get more," a spokeswoman said.

"Our Fruitastic offer promotes healthy eating and gives children one of their 5 a day as well as helping parents encourage their children to make a healthy choice when they want a snack.

"It also promotes our junior membership scheme and rewards our junior members for shopping with us."

The co-op is sending out Fruitastic cards to existing junior members who apply and new members who join within seven to 10 days. It will honour them at any of its stores throughout the summer holidays.

Junior members also get offers on days out as well as access to competitions and activities.