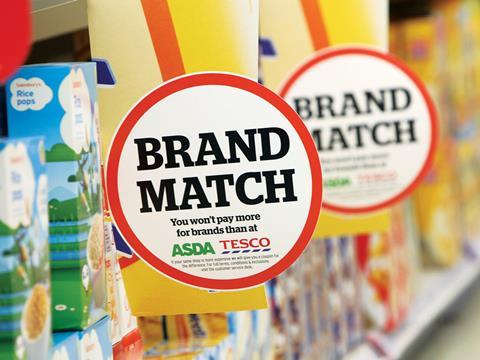 Sainsbury's has cut hundreds of prices in stores to signify the end of its Brand Match scheme.

The supermarket slashed prices on "popular key products" such as chicken, bread and fresh produce yesterday.

It said it had used the money it had spent on its price comparison scheme to fund the price cuts.

Sainsbury's decided to axe the initiative earlier this month because its research had found that customers prefer "lower regular prices" to schemes that compare prices with other supermarkets.

Products including own-brand spinach, bleach and a whole chicken will now carry lower prices. A 1.5kg pack of Scottish porridge oats will go down from £1.70 to £1.50, and a 250g pack of British mature grated Cheddar will fall from £2 to £1.75 - though prices may vary in Central and convenience stores.

Sainsbury's said it would continue to monitor the prices of branded products to ensure they remain "competitive" and offer "great value".
This week was therefore the final Grocer 33 pricing survey to feature Brand Match. Even though our mystery shop took place before the latest price cuts kicked in, Sainsbury's total for our shopping list was just £1.97 more expensive than Asda's. Our shopper received a Brand Match voucher for 31p but it would have been £2.25 - ie 28p cheaper overall than Asda - had the store had full availability.