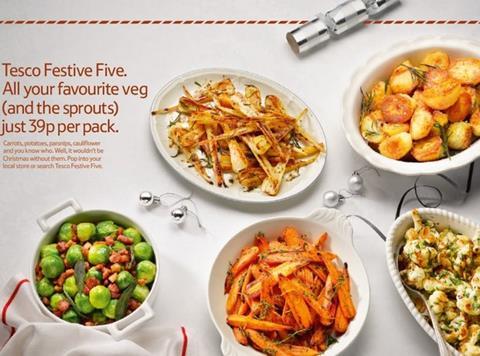 Tesco is bringing back its successful Festive Five fresh produce promotion, with prices 20% cheaper than last year.
The retailer is trying to tempt shoppers to stock up with 39p prices on 2.5kg white potatoes, 1kg carrots, 500g parsnips, a whole cauliflower and 500g Brussels sprouts.
The strategy was hailed as a big success last year as Tesco did better than many expected over the festive period.
Tesco CEO Dave Lewis is under even more pressure to deliver over Christmas with the retailer's shares having hit their lowest level since 1997 last week, amid gloomy predictions of further loss of share to the discounters from the supermarket giants.
"The Festive Five offers shoppers great value deals on great quality produce," said a Tesco spokeswoman. "With simple, low and consistent pricing on our celebratory dinner vegetables, we are helping to take some of the stress out of customers Christmas shop, as well as providing fantastic savings."
Tesco's move matches the 39p price point which Aldi moved to in October for its long-running Super Six promotion and comes amid ever increasing competition on fresh food prices.
In June the Co-operative Food delivered £125m of price cuts on fresh fruit and veg. It launched its Fresh Three deals which saw lines such as carrots, lettuce, cucumber and brocolli, also priced at 39p.