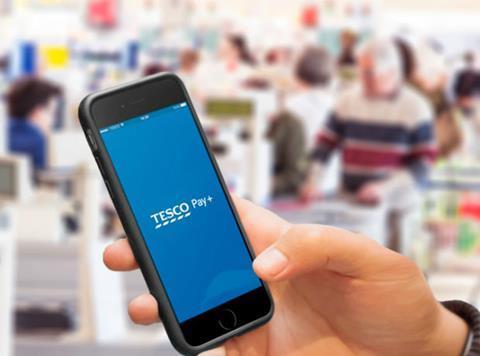 Tesco has launched a new drive to sign up customers to its rebranded digital wallet Tesco Pay+.

The retailer announced today that users would collect one extra Clubcard point for every £4 spent in Tesco, if they used Pay+ between now and 14 January.

It revealed plans to relaunch the app, previously known as PayQwiq, last month, amid fears that the old name was hard to fathom for consumers.

However, announcing the new sign-up drive, Tesco said those customers that had signed up to the app had been shopping more often at Tesco, with their frequency of visits increasing by 20% and a transaction using the Tesco Pay+ digital wallet taking place every three seconds at a store.

Originally launched in 2015, the digital wallet app allows customers to pay for shopping on their smartphones while collecting Clubcard points.

It allows customers using either Android and iOS smartphones to pay and collect Clubcard points with one scan of their phone, up to a single transaction limit of £250.

"Our digital wallet has proved hugely popular with our customers and we are confident that Tesco Pay+, with its fantastic capability, will continue to transform the shopping journey, offering little helps to customers every time they shop in Tesco," said Tesco digital wallet and group payments director Mark Loch.