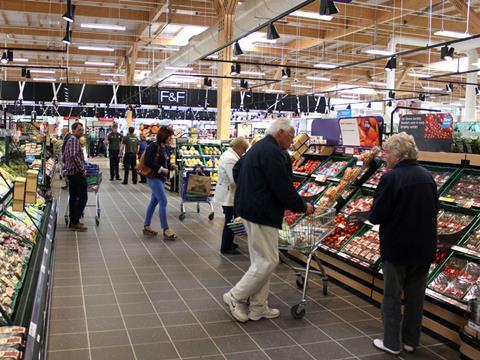 Tesco has slashed prices on a raft of fresh produce lines but denied it has started a new price war against the discounters and Asda.

The supermarket has brought down prices in some cases to more than half price, including many products sold under its Farms brands.

It comes less than a week after Tesco boss Dave Lewis said the retailer was preparing a post-Easter fightback against discounters Aldi and Lidl, after both made further inroads into the retailer's share since Christmas.

Products slashed in price since last week include Redmere Farms white potatoes, down from £1.29 for a 2.5kg bag to 49p, Tesco leeks, down from 95p for 500g to 49p, and a five-pack of oranges, reduced from £1.25 to 79p.

Other products to have prices reduced include parsnips, mushrooms and celery hearts.

The move by Tesco comes after Asda last week launched a budget range of fresh meat and fruit & veg under its revived Farm Stores brand, replacing SKUs previously sold under its Smart Price budget range.

However, a Tesco spokesman denied the new wave of price cuts was a response to the Asda launch or the threat of Aldi and Lidl. This was despite Lewis suggesting that the shift in shoppers to them since Christmas could potentially represent a "significant shift" in the market, which Tesco would have to respond to.

"Whilst we have brought the price down of a number of fresh products, these are not part of some concerted campaign," said a Tesco spokesman.