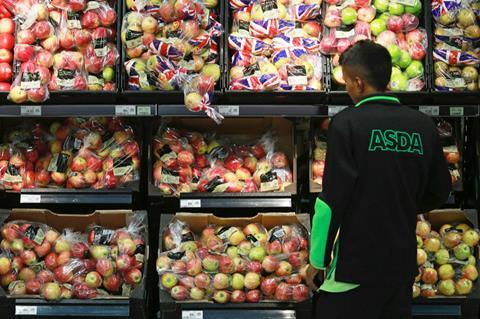 Asda completed a hat-trick of wins to edge into the lead in this year's Grocer 33 pricing standings.

The Walmart-owned retailer overtook Sainsbury's, which had set the early pace after bagging the first two wins of the year. At £63.78 Asda came in £1.35 cheaper than Tesco, this week's runner-up.

Asda offered the lowest price for 22 items this week, with 14 exclusively cheapest. Five of these were fresh fruit & veg lines including the red cabbage, apples and blueberries, while just three were branded products - the Batchelors peas, Blue Dragon hoisin sauce and the Jordans Frusli bars.

It was reported this week that Tesco had increased the price of more than 1,000 household staples in the past two weeks. However, our shopping list was actually 1.4% cheaper at Tesco than it would have been a month ago. In fact Tesco was the only retailer to be cheaper this week compared with June - though a major contributing factor to this was a save £2.50 deal on the Gordon's Pink Gin.

Tesco also had the most deals overall, with 11 lines on offer this week. Morrisons was close behind on 10, Asda and Waitrose had eight each while Sainsbury's had just three.

Morisons took third place, coming in £2.10 more expensive than Asda at £65.88. The retailer offered the lowest price for 10 items and was exclusively cheapest for the Alpro almond milk, Benecol, Hovis loaf and the stir-fry oil.

Sainsbury's was £4.46 more expensive than Asda at £68.24. It offered the lowest price for seven lines but was only exclusively cheapest for the Dolmio sauce.

Having been a long way off the pace last time out, Waitrose was considerably more competitive this week. It was just over a fiver more expensive than Asda at £69.12 and just 88p more expensive than Sainsbury's.