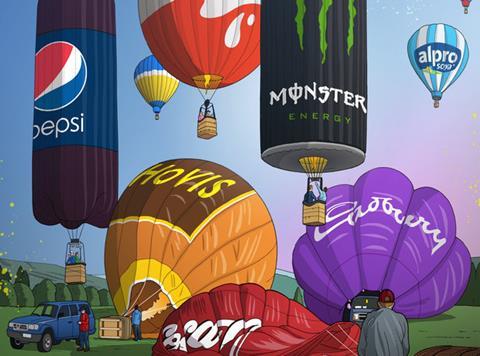 Grocery brands are falling back to earth with a bump. With deflation gripping the economy, competition for supermarket shelf space never fiercer and the discounters doing a roaring trade with their 'like brands but cheaper' promise, 56 of Britain's 100 Biggest Grocery Brands have suffered a fall in value in the past year. and 61 have seen prices fall.
And it's across the board. Just three of grocery's 10 biggest names - Dairy Milk (4), Nescafé (7) and Pepsi (9) - have managed to grow value in the past year. The combined loss of the top 10 brands stands at an eyewatering £105.6m, accounting for more than a quarter of the top 100's combined loss of £408.5m, a 2% decline. The plummeting sales are not all down to price deflation, either; Britain's biggest brands have shifted 87.8 million (0.6%) fewer units.
Yet some are still gaining altitude at an impressive rate. Alpro (59) has turned in the greatest growth, worth £27.6m. Pepsi (9) has defied slumping sales of carbonated soft drinks with growth worth £22.6m. Kinder (83) is soaring, its £22.4m growth taking it into the top 100 for the first time. How are they doing it? And who's down and out?