Are you ready for integrated food safety?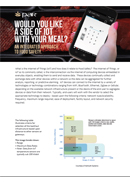 The implementation of comprehensive end-to-end Food Safety and Task Management strategies that utilize remote monitoring based upon IoT promise to provide businesses with a new cornerstone for building a comprehensive and preemptive Food Safety and Facilities plan. By meeting the strict requirements of HACCP regulations, companies can continually reduce operational expenses, decrease waste, and potentially predict events that could affect the food chain and subsequently the consumer.
Fill out the form to download the pdf.
Company: Partech
Format: PDF
Length: 4 pages
Type: White Paper
---
Please note that any information that you supply is protected by our Privacy and Cookie Policy . Access to all documents and request for further information are available to all users at no cost. In order to provide you with this free service, William Reed Business Media Ltd does share your information with companies that have content on this site. When you access a document or request further information from this site, your information may be shared with the owners of that document or information.