White Paper: Boost productivity and empower your workforce with RPA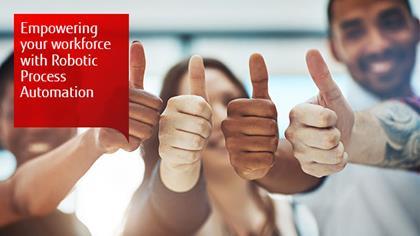 Retailers are under increasing pressure from new discount formats, online retailing and the introduction of the national living wage. They need new ways to boost productivity and empower their workforce to deliver great customer service – and get ahead of the competition.
Robotic Process Automation (RPA) can help, taking care of mundane processes, so your people can reskill, spend more time advising customers, and be more productive in other areas.
One major UK retailer recently invested in RPA with Fujitsu and Thoughtonomy, and was able to:
Cut reporting time from hours to minutes
Reduce operating costs by 81%
Save £300,000 annually
Download the case study and for more on the power of RPA in retail, take a look at our video and see how it can help you accelerate recruitment, onboarding, customer management, and other previously manual processes.
Fill out the form below to download the pdf and view video.
Company: Fujitsu
Format: PDF
Length: 2 pages
Type: White Paper
---
Please note that any information that you supply is protected by our Privacy and Cookie Policy Access to all documents and request for further information are available to all users at no cost. In order to provide you with this free service, William Reed Business Media Ltd does share your information with companies that have content on this site. When you access a document or request further information from this site, your information may be shared with the owners of that document or information.