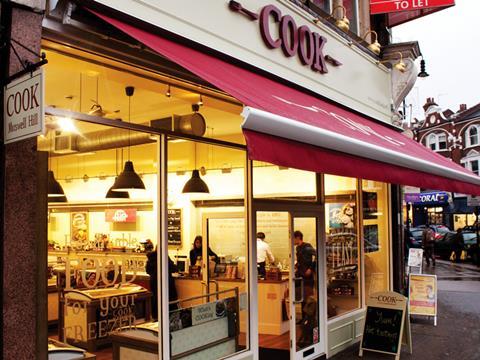 Premium frozen food retailer Cook posted record Christmas sales for the six weeks to the end of December.
Like-for-like sales grew by 6.6% as total sales for the period reached £7.3m in the 85 Cook shops across the UK.
An additional 27.2% sales rise from the previous year was recorded through branded freezer concessions in other retailers over the same period, reaching £1.3m.
While bucking the trend of low food sales growth and promotion-led price wars shown in the big supermarkets, Cook also maintained its policy of not discounting during December.
Online sales were also in growth, up 36% over the period and home delivery services in the busiest areas accounted for 40% of total shop sales.
"There's no doubt that this Christmas saw consumers embracing online food shopping as never before. However, before getting carried away, it's worth noting that good old bricks-and-mortar sales still accounted for 85% of our business overall," said Cook co-founder and MD Edward Perry.
"Our online shopping experience at cookfood.net has been transformed in recent years. That showed with the conversion rate of people visiting the site and subsequently shopping being up by 19% on the previous year. We need to make sure we match the same continual improvements in experience in our physical shops, offering a level of personal service and hospitality that the supermarkets can only ever aspire to."