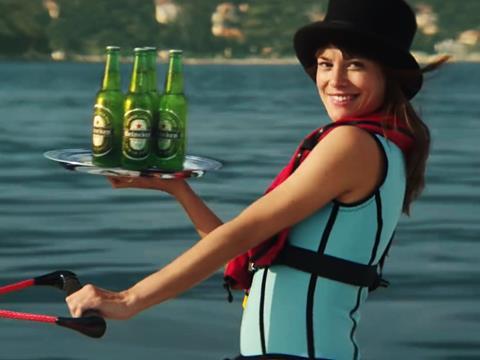 Heineken's global revenues increased 8% to €5.51bn in the three months to September on the back of strong volume growth in Europe, the company announced today.
The company's reported net profits for the first nine months of the year are €1.78bn – up 62.8% year-on-year.
Beer volumes in Europe, which accounts for more than half of Heineken's business, were up 6.8% organically to 23.1 million hl, helping revenue in the region increase 10% to €2.99bn. It also managed strong revenue growth of 10% in the Americas and 12% in Asia-Pacific.
Heineken's volumes in the premium segment were up 3.9% organically to 8.1 million hl. This was led by the Heineken brand, said the company, with Desperados, Sol, Affligem and Strongbow all seeing double digit growth.
"Our strong performance in the third quarter is consistent with our earlier 2015 FY guidance that volume would be weighted to the second half of the year," said Heineken chairman and CEO Jean-François van Boxmeer. "Heineken's well-balanced global footprint, excellent portfolio of brands, including the recent addition of Red Stripe and partnership with Lagunitas, combined with a powerful innovation agenda are expected to continue to deliver positive top and bottom line growth."
Earlier this month, Heineken completed the acquisition of a 50% stake in California craft brewery Lagunitas, and 53% of Slovenia's leading brewer Pivovarna Laska. It also acquired Diageo's 58% share of Red Stripe brewer Desnoes & Geddes, taking its stake to 73% and paving the way for a full takeover.