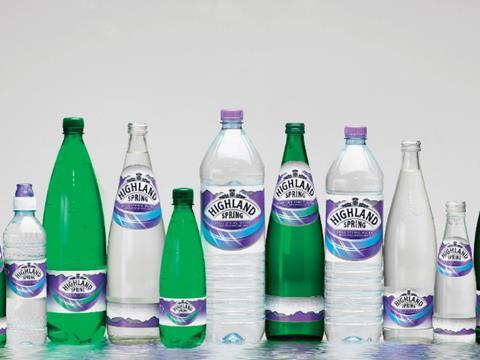 Bottled water supplier Highland Spring hit sales of £100m for the first time in the group's 35 year history in 2014, according to its annual report.
The brand owner has now doubled its turnover in the past five years, an ambition set out by CEO Les Montgomery when he took over the reins of the company in 2008.
"The achievement of sales revenues in excess of £100m fulfils one of the long-term strategic objectives set by the Group," said Montgomery.
"This represented a significant milestone in the Group's history and was celebrated with all staff during the year."
Pre-tax profits for the year did drop by 23%, however, from £2.2m in 2013 to £1.7m last year.
A test launch into the flavoured water market that ended in June 2014 proved costly for the company with 11 flavoured SKU's removed from Tesco shelves.
An "historical VAT issue" also incurred costs that impacted on profit, Montgomery added.
The board is "highly confident" of a positive financial performance in the years ahead, he continued, thanks to "buoyant" market conditions fuelling a YOY growth in bottled water sales of 8.1%.
"This growth has been fuelled by changing consumer habits positively affecting both penetration and consumption levels," Montgomery said.
"The increased consumer awareness of the need for healthy hydration, combining with on-going negative publicity around sugary soft drinks plus increased support from retailers all provide confidence that market growth levels are likely to be sustained over the coming 2-3 years.