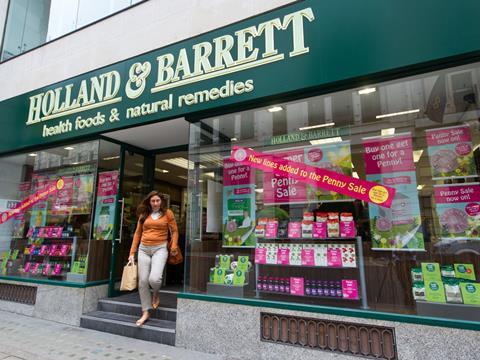 Holland & Barrett has increased turnover 5.5% to £368.8m in 2014 after significant investment in UK and overseas markets.
Pre-tax profits also jumped at the health chain by £5m to £89.5m in the year ended September 2014, with an increased dividend of £63.4m paid to holding company NBTY Group.
Holland & Barrett does not produce consolidated accounts, but the group said that if the results for the 1,000-strong store portfolio had been combined, turnover would have grown by 7.7% to £513.6m.
Holland & Barrett Retail Ltd operates a total of 1,046 shops in the UK and overseas, including its GNC and MET-Rx sports nutrition brands. About 740 stores are located in the UK and Ireland, with a further 300 owned and franchised stores across Europe and other overseas markets such as Singapore, Malta, Dubai and China.
"These strong results follow significant investment in the UK as well as overseas markets," Holland & Barrett International CFO Chris Keen said.
"A combination of acquisition and expansion through franchising means we are now operating well over 1,000 stores worldwide, with approaching 100 franchise stores in nine territories.
"We continue to see sustainable growth this financial year across all channels and all markets, and our recent investment in new stores and new propositions such as 'free-from' food in the new Holland & Barrett More concept stores puts us in a strong position to further leverage the global trend of healthy living and wellness."