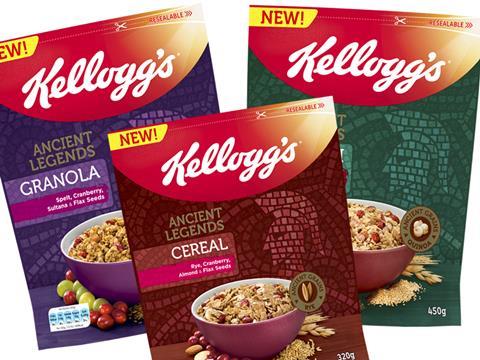 Sales continued to slide at Kellogg's as US consumer breakfast habits changed but the group said the cereal business improved in the fourth quarter.
The group recorded an operating loss of $39m in the final three months of its financial year to 2 January, but a cost-cutting drive helped full-year operating profits climb 6.6% to $1.1bn.
Revenues fell 10.6% in the quarter to $3.14bn and 7.2% in the year to $13.5bn, with North American net sales down 8% and 4.3% respectively.
The results beat the expectations of Wall Street.
The US morning foods segment of the North American business, however, posted an increase in comparable net sales of 1.5% in the fourth quarter as a result of improving trends in the US cereal division.
Kellogg also reported a strong performance in Europe in the fourth quarter, with revenues up 1.6%, thanks to "excellent growth" in the snacks business, including Pringles.
"Our results in 2015 met or exceeded our initial expectations," CEO and chairman John Bryant said. "We saw good growth in many of our businesses, and, importantly, trends continued to improve in the US cereal business.
"We're very pleased with the foundation that we've built. We are committed to achieving our long-term goals for growth in 2016, supported by our increasing momentum and unprecedented productivity programs."