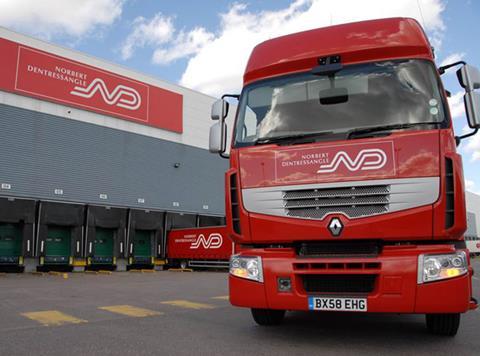 Norbert Dentressangle has posted sales up 13.4% for the first half of 2014, compared with the same period in 2013.
The transport and logistics company, which operates across 26 countries, reported sales of €2.2bn (£1.7bn), up from €1.9bn in the first half of 2013.
Norbert Dentressangle, which is a major supplier to the UK food and drink sector and has customers including Asda, Morrisons, Sainsbury's and Tesco, said it had benefitted from "Europe enjoying a brighter economic climate," with "growth in the UK economy and recovery in Spain".
The logistics division grew revenue by 19.2% to €1.07bn, with operating income at €37.7m. Transport also reported sales up 5.6% to €1.07bn, with operating income at €26.9m.
The company also announced today it would acquire US contract logistics provider Jacobson Company in a transaction valued at €560m. The acquisition, set to be completed in September, would boost the company's revenues by 15%, Norbert Dentressangle said. It would also make the US its third largest market after France and the UK.
"The acquisition of Jacobson is a key milestone in Norbert Dentressangle's development strategy to become a top-tier player in global supply-chain management and a step change in expanding our global reach," said CEO Hervé Montjotin.