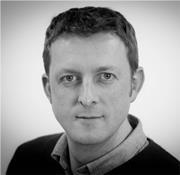 Robin Norton
Harrogate
After completing an MSc in Social Research, and 10 years in the food industry with Nielsen, Northern Foods & Greencore ... Robin established grasp business development ltd in 2004. grasp was founded as a one-stop-shop for FMCG research and category management in the North of England. Since then we have worked with over 100 clients, ranging from diversifying farmers to major multinationals.
Recent activity
Comments (23)
Are these taunts, or serious offers? Quorn nuggets - hot on the high street - sounds pretty good to me : ) ... Not sure Joanna Blythman would approve though.

Importantly for those not blessed to be living in Yorkshire (!) there is a postal option ... https://www.bettys.co.uk ... but there's nowt quite like visiting Yorkshire to experience it all in person : )

So, basically in a post-Brexit world, if there is a glut of parsnips *all* of us in the UK food industry need to work together to inspire shoppers to buy & consumers to eat parsnips ... and not just with the blunt mechanic of price, or too much "wonky veg" syrupy goodness. That way everyone can win. If you take the view that marketing means we should only sell what the shopper wants to buy, then we can argue our shoppers are increasingly buying inspiration. Parsnip hash browns? Parsnip cupcakes? Curried parsnip mash? Sell it to me ...

... and if the pound falls further we face the prospect in the UK of more of our great quality, domestically-produced dairy being bought from beneath us for export. Good for the rest of the world, bad for British consumers. Chris Grayling needs to get his butter churn out, and maybe his calculator too.

Hmmm ... if more stock is held ON the shop floor, surely that frees up loads of space from the back wall for ARGOS concessions!?
Discussions (0)
Robin Norton has not added any discussions yet.
Posts (0)
Robin Norton has not added any posts yet.