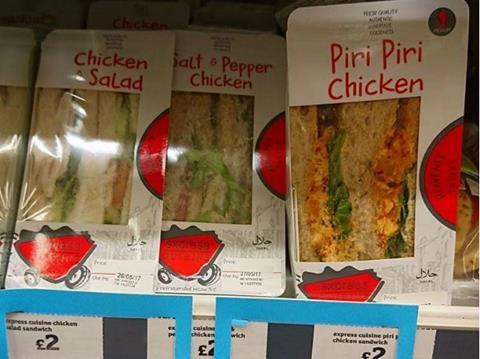 Sainsbury's has expanded its food to go offering with a range of halal sandwiches from the Express Cuisine brand.

Four products are available in the range, which is manufactured by Halal Kitchen: chicken salad sandwich, chicken tikka wrap, piri piri chicken sandwich and salt & pepper chicken sandwich (rsp: £2).

Halal Kitchen MD Sohel Patel said the move was a "huge win" for the brand, and would give it a bigger profile as well as increased volume sales.

"We have been with the other three supermarkets for some time now, and Sainsbury's was one quite tough to get into," he said. "It's one I'd approached many times in the past, but I wasn't really making inroads with them. But this time I think they changed buyer, and the buyer who's there now is very much into what we're doing, had a look at the products, and is very much behind us.

"For all the supermarkets, there's only us as a halal sandwich manufacturer. We are the only accredited 100% halal sandwich manufacturer. With us having such a longstanding history and being the only ones at present, it gives us the advantage of always being a market leader."
The Express Cuisine sandwiches are certified as halal through the Halal Monitoring Committee (HMC).