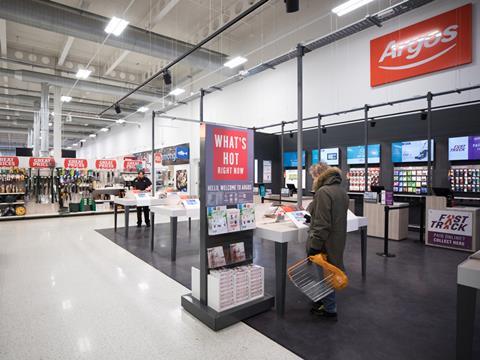 Sainsbury's is to open its second 'Argos hub' – effectively a full Argos branch within a supermarket – at its Tritton Road, Lincoln superstore on 16 October.
The outlet will stock up to 18,000 Argos products to serve in-store and click & collect customers, as well as deliveries, including the Argos three-hour Fast Track service.
The new hub will also effectively act as a distribution centre, delivering to smaller 'spoke' Argos outlets at other stores.
It is a relocation of the Argos branch on the nearby high street.
Sainsbury's opened its first Argos hub at its Sunderland North superstore in October 2019 as the local high street Argos branch closed its doors.
"Last year we announced a review of our estate, which included plans to close 60-70 standalone Argos stores and open 80 more Argos stores inside Sainsbury's stores," an Argos spokeswoman told The Grocer. "We have now updated colleagues on our plans to move the Lincoln Argos store inside the Lincoln Sainsbury's store in October."
Sainsbury's has opened 300 Argos outlets in Sainsbury's stores since its £1.4bn takeover of Argos in April 2016.
The supermarket has also added Argos to its 400 Nectar partners. Argos customers can now collect and spend Nectar points in-store and online for the first time, and can earn double points (two points per £1 spent) between 18 and 28 September.
James Moir, MD of Nectar, said: "We're constantly looking for new ways to reward our customers, so we are very excited to offer a new way for shoppers to get the most out of their Nectar points with one of the nation's most loved brands. The Nectar app is a one-stop virtual shop to make points work harder and we hope that with this new offer, our customers can kick-start their early Christmas shopping and get more from their purchases at Argos."
The move follows Sainsbury's slashing 20% of its management jobs as part of its continued integration with Argos after its failed merger with Asda.