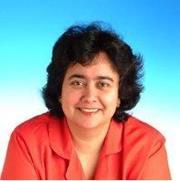 Sophia Nadur
Hertfordshire
20+ years global marketing/innovation with Coca-Cola, Mars, Unilever and Kraft/Mondelez. Healthy beverage startup co-founder (www.drinktg.com). Qualified lawyer. Passionate advocate for better-for-you food & drink. A sometimes provocative (always ethical) food & drink industry blogger and conference speaker. Volunteer magistrate. Supports innovation teams in transforming their food & drink portfolios.
Recent activity
Comments (91)
Well done, Derek and team! Wicked Kitchen is indeed sizzling in social media (I co-own a vegan drink and our community has been very positive to the products). The brand can indeed be a gateway to health & wellness and can plan a hugely helpful role in nudging behaviour change.

A 'protein' fixture is not just a wasteful nod to an unhelpful fad but also an old-fashioned view of food store layouts. Consumers do not shop this way (anymore). As well, it's not linked directly to diet restrictions / culinary origins like gluten-free or Mexican. It would be better if stores were laid out by meal occasion (e.g. breakfast, dinner) which fits better the mission most folks are on when they walk through the doors.

To help keep plant-based food & drink trends alive, stores would be better served in my view by placing vegan-certified and plant-based food & drink nearer to the fruit & veg aisles to encourage folks to fill up their baskets before they hit the regular aisles.

My British-made soft drink is a perfect replacement for the high sugar energy drinks (rightfully) facing an U16s ban. It is affordably priced and vegan certified (so fitting the food trend). We don't need VAT lowered to be price competitive on shelf. We even offered 40%+ margins to buyers. The problem is that, especially in snacks and soft drinks, buyers have grown accustomed to big marketing budgets, ski holidays, "tailored" market research from category captains etc. which SMEs will not / cannot match. We will never really move the needle w.r.t. customer health unless we change fundamentally the buying & listing decision-making process.

Recipe kits generate a huge amount of wasted packaging which, in the era of increased focus on waste & sustainability, will become even more of a "pain point" for brands wanting to build customer loyalty.

The kits market value globally was projected to be $4 billion in 2018 and $36 billion by 2026. I don't believe it. Instead, I think pre-packed meal brands like Hello Fresh will run out of cash, repeat customers or both and, in its place, delivery solutions like Alibaba's Hema retail offer will thrive.

Carina, imposing a "meat tax" is a bad idea until and unless there are sufficient affordable, nutritious & easy-to-prepare plant-based alternatives. The substitutable products on shelf today are in the main high priced (Beyond Meat), come with unattractive names (Quorn, Tofurky) and/or are simply tastes awful. I grew up loving "soya meat" out of necessity (it was cheap). I know how to cook from scratch a lentil dahl etc. but many working people don't know how to nor have the time. Without better options, a "meat tax" will only hurt poorer / time-poor folks.

Its more or less the same issue with the soft drink tax. Although I agree wholeheartedly with this tax, it is destined to hurt more than help when it is introduced in April 2018 for the simple reason that retailers have NOT as yet bitten the bullet and stocked truly healthier drinks. As instructed by the global behemoths, supermarkets and other food & drink retailers have opted instead to stock smaller packs of the same stuff and/or drinks containing aspartame, ACK and sucrolose sweeteners that do nothing to really nudge positive behaviour change.


Disclaimer: I follow a plant-based diet and have never worked for or within the meat industry. I do own a low calorie/sugar British-made award-winning natural soft drink.
Discussions (0)
Sophia Nadur has not added any discussions yet.
Posts (0)
Sophia Nadur has not added any posts yet.