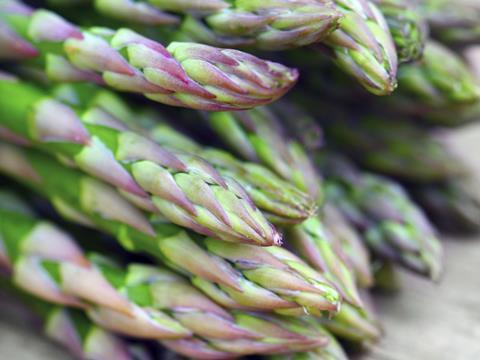 The "earliest ever" crop of British asparagus has gone on sale in selected Marks & Spencer stores.
Grower John Chinn said this year's crop was being made available more than a month earlier than the traditional British asparagus season, and had been made possible by the development of a new, 'early' variety of the vegetable cultivated in polytunnels.
The first bunches went on sale last week at M&S's Marble Arch store (£3.00/100g asparagus tips), and surpassed the first bunches of last year's crop by several weeks, added Chinn.
A more widespread supply will roll out to M&S stores throughout March from protected crops with open-field asparagus expected to hit shelves by early April.
"We are really excited to have our British asparagus ready for February as it means M&S customers can enjoy this lovely delicacy a whole month earlier than the traditional season," said Chinn. "We really want to drive the British asparagus industry forwards and do this in the most sustainable and natural way."
"There is always an air of excitement when the first British asparagus comes into season and this year we decided we wanted to give our customers a real treat by getting it in stores for February," added M&S vegetable buyer, Louisa Read.