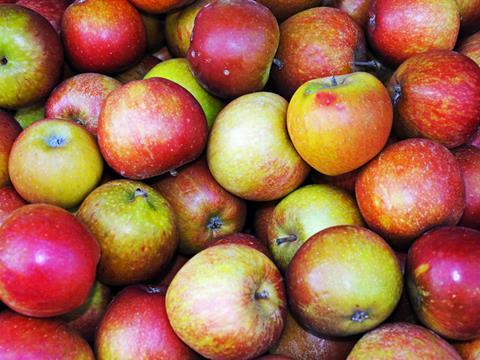 The English apple season could finish four weeks early this season, driven by increased volume sales alongside a lower yield.

Poor weather and issues with colour and size at the time of picking have led to a smaller yield this season, with Cox apples particularly affected. The season, which began in late September, was initially forecast at a similar level to 2015/16. However, the total picked crop of apples was down almost 6% at 150,000 tonnes, according to trade body English Apples & Pears.

Despite the smaller volumes, sales of English apples have increased by 4%, largely due to the 8% to 9% increase in sales of Gala apples.

"Gala is the most popular variety by far of home-grown British apples, largely as a result of colouration, taste and texture," said Steven Munday, CEO of EAP. "But for traditional eating apples, such as Cox, volumes are down a little this year.

"However, the overall crop that was picked back in September, October and November is slightly down on the previous year. As a result, we'll probably have a slightly shorter British apple season than last year," Munday added.