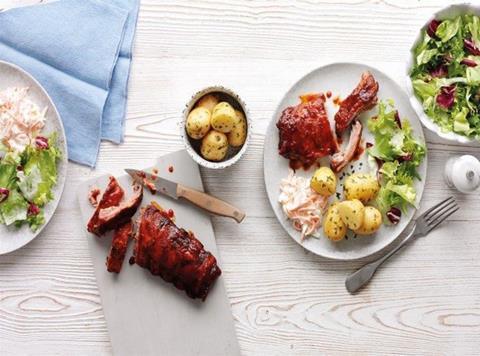 Spar is rolling out the next phase of its Easy Meals campaign, which it started in October 2016.

The initiative uses a core range of 15 existing Spar branded products to highlight to shoppers all the ingredients needed to prepare simple evening meals.

From June until September, Spar is showcasing six easy meal ideas, including BBQ beef ribs and sweet potato wedges, sweet chilli chicken kebabs, chicken salad, filled pasta and garlic flatbread, pizza and salad, and BBQ ribs and baby potatoes.

"Meal for tonight is the most valuable shopping mission - so by positioning Spar stores as a destination for evening meal ingredients this summer, our retailers have a huge opportunity to grow sales," said Spar UK head of brand Cath McIlwham.

"By continuing with our Easy Meals campaign, we are telling our customers that Spar is the place to shop for their meal for tonight, throughout the entire year. It also means we can also make sure our retailers are stocking the bestselling products from each category, for the best sales return possible," she said.

"With a core range of 15 products, we can ensure that even the smallest Spar retailers have a credible range, and we can consistently show our customers that we have everything they need for tonight's tea," she said.

The campaign is being supported by marketing with point of sale material, promotional videos, website, social media, Spar Radio, e-newsletter and digital advertising.