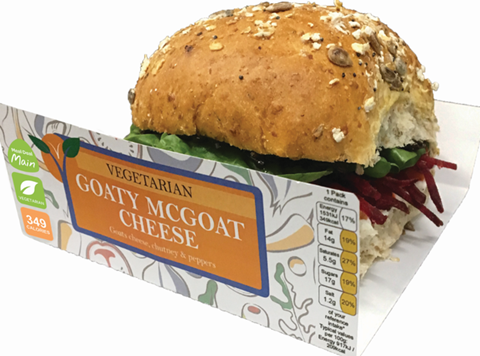 Spar wholesaler James Hall is to launch a new vegetarian and vegan range featuring a 'Goaty McGoat Cheese' roll in stores and forecourts on Valentine's Day.

Developed under James Hall's Great Northern Sandwich brand, the range features flavours from around the world and will form part of Spar's £3.50 meal deal.

To meet increasing demand in the booming vegetarian and plant-based food market, James Hall is offering six new sandwiches and wraps, including Goaty McGoat Cheese, a creamy goat's cheese mixed with crème fraîche, caramelised onion chutney with beetroot, grilled peppers and spinach on a seeded brown roll.
Also in the range are sandwiches and wraps with names such as Simply the Pest-O, Jala-Bean-O, Go Greek Lightning, Beet it and Royal Spice.

"We are thrilled to unveil our new vegan and vegetarian range," said Peter Dodding, sales and marketing director for James Hall. "These sandwiches and wraps have been developed to meet the ever-growing demand for plant-based food-to-go dining options and we are excited to see how the range develops over the coming year."

The northern-based wholesaler has recently extended its vegan offering with a range of products from Tanpopo, including Vege Gyoza Dippers, Edamame Pots and Bamboo & Mushroom Ramen.