Digital menus drive healthier choices
At McDonald's, almost 90% of our standard menu is under 500 calories. That's probably news to a lot of our customers, and it's easy to forget we've offered fruit bags, carrot bags and salads on our menu for more than a decade.

So how can we encourage customers to discover items they may have overlooked previously?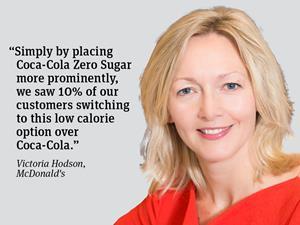 The answer lies in the technology that's part of our multimillion pound transformation programme providing 'ultimate convenience'. Over 1,000 restaurants have been refurbished and offer innovations like digital ordering screens and table service. With a single swipe customers can browse our entire menu easily, rather than defaulting to their 'usual' at the counter. They can also make more informed choices. Transparency is in our DNA, and for over 10 years we have displayed our nutritional information on our menu boards and tray liners. Nutritional information is clearly displayed under each item before people order on our digital screens in restaurants, as well as at home on our website and click & collect app.

Since introducing these, we've seen 76% growth in our customers choosing a salad as a side or main, 1.3 million more bottles of water bought instead of a sugary drink, and 1.4 million more Fruit Bags bought with a Happy Meal.

We've also been looking at the impact of changing the ordering of items on the screens. Simply by placing Coca-Cola Zero Sugar more prominently, we saw 10% of our customers switching to this low-calorie option over Coca-Cola. If this switch were translated over 12 months, across all our restaurants, this would equate to over 60 tonnes of sugar removed from customers' diets.

So, whatever a customer is looking for they can be confident in the choices they're making.

We're not content with standing still, either. I know how hard it can be to keep track of the nutritional value of what my kids and I eat. That's why we have launched our Meals Under bundles. These are a range of meal options under 400 or 600 calories. The bundles are clearly displayed on our self-order screens and bring together a main menu item, a drink and a side for breakfast, lunch or dinner. They include many of our favourite menu items such as the Egg & Cheese McMuffin, McChicken Sandwich, and our Big Flavour Wraps. All achieve amber and green on the FSA traffic-light system for fat, satfat, salt and sugar. Many may have also been surprised to see Carrot Bags - or Reindeer Treats - take centre stage in our most recent Christmas ad. We've had carrots on our menu for over a decade and heroing them was a great success - doubling the sales of carrots in December - immediately demonstrating the power of raising awareness of the breadth on our menu. And we didn't stop there. We also gave away thousands of free Reindeer Treats to our customers on Christmas Eve.

We are driven by what our customers want, making appropriate changes to our menus (such as through reformulation), providing information and presenting choice. Our strong partnership with suppliers and industry stakeholders allows us to progress at pace.

Victoria Hodson is vice president, business strategy & insight, at McDonald's UK