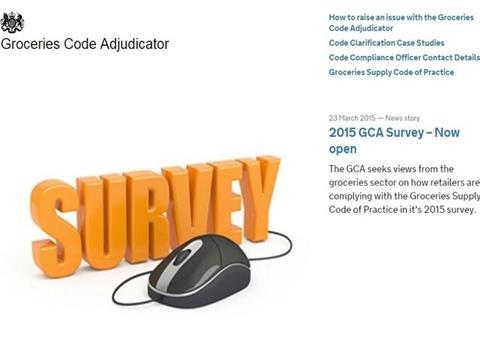 Adjudicator Christine Tacon today launched a survey of an estimated 8,000 suppliers in a bid to unearth breaches of the Groceries Code.
Tacon has posted a YouGov survey on her website, which will stay open until 1st May.
She also launched a personal video appeal calling for as many suppliers as possible to come forward with information to the questions, which as well as identifying retailer behaviour is also aimed at showing how well, or otherwise, suppliers understand the code.
Last week The Grocer revealed Tacon, who ran a similar survey in 2014 survey with YouGov, had added new questioning to the new survey in a bid to pinpoint specific buying teams within retailers who may be acting in breach of the Code.
She said she wanted to root out "notorious" buyers amid widespread anecdotal evidence of breaches.
Last year's survey was hit by poor uptake amid widespread fears that the adjudicator would take no action even if they complained.
Tacon said today in her message: "The more responses I receive on the survey the more comprehensive a picture I will have of the industry and the issues I have to raise with the retailers.
"I am very keen to get a high level of response from the sector to expand my understanding of the issues you are facing."