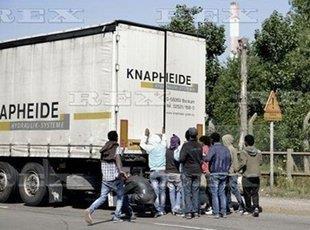 The Freight Transport Association will attend a high-level meeting today in Calais where it will call for an urgent solution to an alleged "increase in violence" on drivers by migrants.
The Freight Transport Association (FTA), the Port of Dover, P&O Ferries, Eurotunnel and the Fédération Nationale des Transports Routiers will meet Xavier Bertrand, the new president of the Nord-Pas-de-Calais-Picardie region, at his behest.
The FTA estimates that disruptions last summer caused by industrial action at the port of Calais and increased migrant activity cost the UK freight industry £750,000 a day.
The 'Jungle' camp is home to about 5,000 migrants and attacks on lorries and drivers are witnessed on a daily basis, the FTA claims.
Its members have reported an increase in violence and the unrest has prompted indefinite suspension of a new freight rail link between Calais and Le Boulou.
Pauline Bastidon, FTA head of European policy, said: "We welcome today's meeting with Mr Bertrand to highlight the impact of the problems at the port of Calais on the UK economy and beyond."
She said £89bn of UK trade passed through the port annually so it was "crucial" a solution was found "as a matter of urgency".
The trade group wanted to see the camp moved away from the road, and the port and Eurotunnel facility secured against "migrant incursion", she said.
"Our members need a safe and secure area to wait with their trucks."