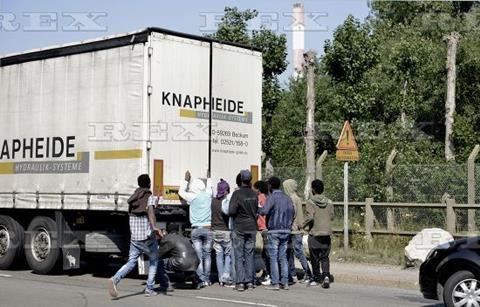 The Freight Transport Association (FTA) has warned the French and British governments that chaos at Calais must be addressed as a matter of urgency following the death of a migrant on a freight train today (7 June) near the French port.
The death led Kent Police to once again implement Operation Stack on the M20 in the direction of the coast.
Freight was hit last week when French port workers went on strike leaving deliveries stuck on both sides of the Channel, costing the economy what FTA chief executive David Wells said today was "hundreds of millions of pounds each week".
The FTA has now written to Prime Minister David Cameron describing the situation as "deplorable" following weeks of violent disturbances.
Conditions for drivers had reached unacceptable levels and "a resolute and determined plan must be put in place".
Wells said: "It is a tragedy that the deplorable situation in Calais has resulted in a fatality today, but it was clear that the issue at the port was spiralling out of control.
"We have been calling on the both the British and French governments to intervene for some time, and are now asking the prime minister to give the matter his urgent priority, and to implement plans to alleviate the crisis," he said.