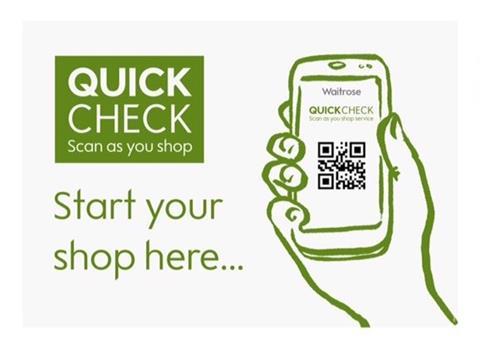 Waitrose has begun trialing a mobile app that lets customers scan their purchases, receive offers and add up their bills using their phones.

The 'scan as you shop' app is currently being tested by myWaitrose cardholders in three branches: at Clapham Common in London, Meanwood in Leeds and Milngavie in Glasgow.

It had been on trial since 7 March and, if successful, would be rolled out to all branches later this year, Waitrose said.

"The ease and choice of checkout options is increasingly important to customers," said Waitrose head of retail change Matt Clifton.

"Making Quick Check available to myWaitrose customers and exploring the opportunity for them to shop with us on their mobiles in-store means we continue to deliver that convenience."

The 'scan as you shop' Android or iOS mobile app can be downloaded from Apple or Google Play and used in conjunction with Waitrose's Quick Check service.

Quick Check requires customers to pick up a Waitrose handset from a charging station and is in two-thirds of Waitrose branches. The mobile app works similarly but allows customers to use their phones instead of the handset. They select purchases, scan the barcodes as they pack, receive any offers that apply, keep a running total of their spending and pay at a Quick Check till using a final barcode tally the app produces.