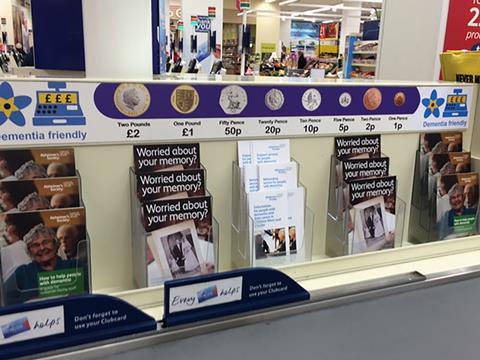 Tesco has opened its first dementia-friendly checkout at a store in Chester.
Stacked with advice leaflets and a visual reminder of the value of coins the checkouts are aimed to assist those customers struggling with the effects of dementia.
The concept arose after senior staff at the store attended a Dementia Friends session at the local Countess of Chester hospital, for which they had fundraised previously.
There a specialised Memory Nurse suggested his "vision of a dementia friendly checkout for supermarkets," compliance manager Hayley Sale explained.
"Everyone I spoke to from the carpark and community teams thought it was a brilliant idea."
Awareness sessions followed to develop the idea, with visual guides to coins added in after a dementia sufferer explained he felt compelled to pay in notes rather than undergo the sometimes "stressful" task of deciphering different coins.
The first checkout was launched to coincide with Dementia Awareness Week in May, and has been clearly sign-posted in store.
"The checkout isn't exclusively for people with dementia but our shoppers are now aware that people in that queue may need a little more time to get through, so overall everyone is a little more understanding," Sale added.
The team at Chester are in talks with other stores to see if the concept could be rolled out further.