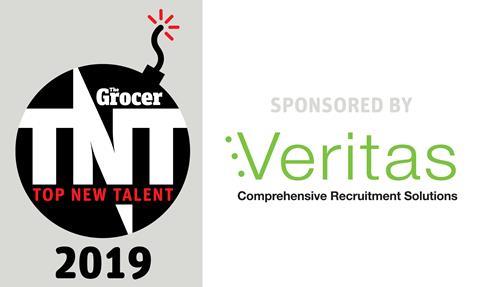 Veritas Partners, the fmcg recruitment specialist, has thrown its weight behind the next generation of UK grocery leaders by sponsoring The Grocer's Top New Talent programme.
Veritas will sponsor the main awards ceremony in November, when the latest crop of TNT winners will be announced, as well as the TNT Community and TNT Spring Social, an exclusive networking event open to former TNT winners and industry VIPs.
"Veritas Partners are so excited and proud to act as sponsor for The Grocer Top New Talent 2019," said Veritas director Nicky Stapleton. "This represents a unique opportunity for us to work alongside hugely talented individuals and engage with the future leaders of fmcg.
"Fmcg is such a brilliant industry to develop your career in and offers broad opportunities for talented, vibrant individuals, be it in sales and marketing, buying, digital or as entrepreneurs."
Fellow Veritas director Mike Gorman added: "We've always been great supporters of new talent in the food and drink industry and see this partnership as an outstanding opportunity.
"Veritas Partners are one of fmcg's leaders in talent and career development, and we look forward to working alongside the team at The Grocer and celebrating Top New Talent and the great work they do."
TNT Community
Founded in 2013, The Grocer's TNT programme recognises the best up-and-coming talent in UK grocery from across the supply chain.
It comprises an annual awards ceremony as well as the TNT Community – an invite-only community that provides an ongoing forum for next-gen talent to network with each other and senior industry leaders, backed by a dedicated newsletter and events.
Notable TNT alumni include:
Kris Comerford, category director at Tesco
Amelia Harvey, co-founder of The Collective Dairy
Ben Hulme, international head of wine & spirits at Lidl
Vicky Bhattu, marketing director at Alpro
James McMaster, CEO of Huel
For enquiries about the TNT Community, the TNT Spring Social and this year's awards, please contact features editor Megan Tatum.
To learn more about the TNT class of 2018, read our profiles on the winners.