After years of commoditisation, milk is turning into a cash cow for retailers and brands. Sales of fresh milk have accelerated for a second consecutive year, with Brits splashing out an extra £70.9m over the past 12 months, while sales of flavoured milk are up by £30.4m.

Admittedly, it's not all good news. Volumes are still down by 1.6%. The growth in fresh milk sales has been driven by inflation, with a 4.6% rise in average prices. This is partly down to the "increased costs of dairy production", says Vanessa Pollard, client analytics executive at Nielsen. At the beginning of 2018, dairy commodity markets had recovered slightly from the 2017 supply crisis that prompted the major supermarkets to abandon their price wars and hike prices on own-label milk SKUs. But the summer heatwave heaped pressure on feed and forage, adding costs to the supply chain and driving up farmgate prices yet again.

However, price inflation isn't just down to an increase in the cost of standard milk, says Rebecca Oliver-Mooney, head of customer value at Müller Milk & Ingredients. There has also been a "significant contribution from the volume growth of added value sectors such as filtered, organic and dairy alternatives, which have a higher pence per litre", she adds.
Growing demand for added value milks is being driven by "a range of motivations from health benefits and longer use-by dates to ethics and different tastes", says Oliver-Mooney, who admits it has come at the expense of standard milk sales. Müller Milk has suffered a 30.8% volume loss, wiping £31.9m off the brand's retail sales, while own-label volumes have dipped 1.4%.

In contrast, filtered giant Cravendale has maintained steady sales, while Arla stablemates Big Milk and BOB Milk have grown value sales by 26% and 36.4% respectively. "Arla's Big Milk - milk enriched with vitamins especially for children aged one to five years - is an example of where a manufacturer has focused on added functionality to diversify," says Pollard. Arla's Lactofree, which caters to lactose-intolerant shoppers, has also performed well.

But the big success story has undoubtedly been milk alternatives. Between them, Alpro and Oatly have added almost £19m in value to the category over the past year. And with sales totalling £134.4m this year, Alpro has overtaken Müller to become the UK's second biggest brand in milk and milk alternatives. "Our plant-based drinks have performed incredibly strongly over the last year with value sales across our chilled and UHT ranges up by 7% and 15% respectively," says Vicky Bhattu, head of marketing at Alpro UK & Ireland. "One of the key drivers of this is the sustained and rapid increase in demand for plant-based food and drink - with one in three households now buying these products every week."

Alpro is enjoying double-digit growth in flavoured milks, too, with the recent launch of its ready-to-drink Alpro Caffè range.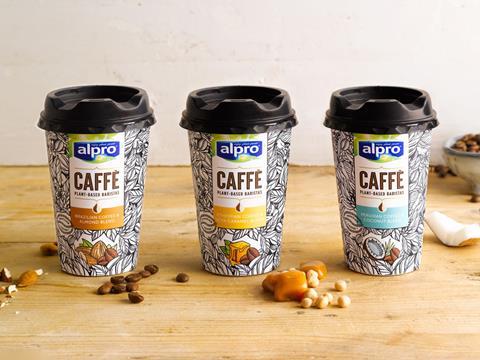 Dairy-based flavoured milks are also in strong growth, though. Total value sales have surged by £30m (9.7%) over the past 12 months, with volume sales up 4.7%.

Health has again been a key driver, with the category as a whole benefiting from the introduction of the sugar levy in April 2018. "Dairy drinks with more than 75% milk are exempt from the levy," says a Yazoo spokeswoman. "This has raised the profile of the category and served as a reminder to consumers and customers of the goodness of dairy drinks as an alternative to carbonated soft drinks."

Even indulgent dairy drinks like Shaken Udder are benefiting to the tune of a whopping 58.4% increase in value. The brand has gained "more listings in the food-to-go sector" in the wake of the levy, says Shaken Udder co-founder Andy Howie. "Our milkshakes are also a healthier alternative to sugary chocolate bars or sweets, providing that instant sweet gratification whilst delivering multiple other benefits such as a B12, calcium and protein boost," he adds.

On the flip side, yoghurt drink brands are having to work harder to convince shoppers of their benefits. Despite cutting added sugar out of its probiotic yoghurt drinks in March 2018, market leader Actimel saw sales dip 2% on volumes down 2%, while rival Benecol also saw volume and value decline.

Instead, the tide seems to be turning in favour of trendier options. Kefir pioneer Bio-tiful Dairy saw sales surge by 65% on volumes up 60%, reflecting growing demand for "naturally functional" drinks, says founder and MD Natasha Bowes. "Bio-tiful Dairy's drinks provide support for gut health, a natural source of protein and essential vitamins and minerals including B2, B12, A, K, D vitamins, calcium, phosphorus, iron, zinc and magnesium," she says. "Kefir is also a lot more powerful in probiotics than yoghurt as it contains over 40 strains of gut-friendly bacteria - while yoghurt typically has a couple."

And kefir doesn't come cheap, suggesting shoppers are still happy to splash their cash on milk drinks that offer genuine health benefits. Something brands should keep in mind as they innovate for 2019.
TOP LAUNCH
---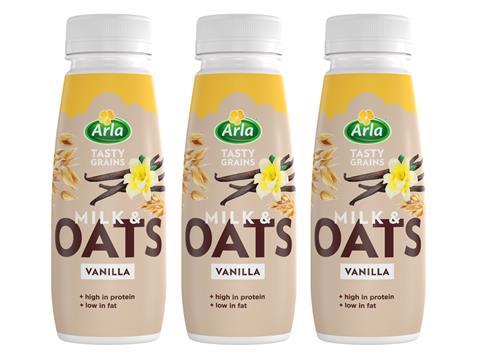 Milk & Oats, Arla
Forget liquid lunch. Health-minded but time-poor Brits are increasingly turning to beverages for breakfast. Sales of breakfast drinks surged 30% between 2016 and 2017, according to Arla, which charged into the on-the-go breakfast category in May 2018 with Milk & Oats – a hearty blend of skimmed milk and wholegrain oats. Available in Maple and Vanilla variants, it's high in protein, low in fat, a source of calcium and contains vitamins B2 and B12 for a nutritious but convenient on-the-go meal.