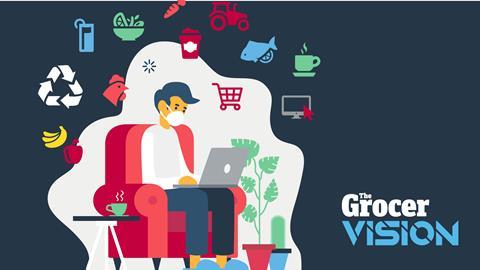 There's now just a couple of weeks left to register for The Grocer Vision's webinar on Grocery after 2020: how shoppers have changed and what's next.
The webinar, hosted in partnership with Attest, is due to broadcast on 25 February 11am and will see a panel of expert speakers from grocery retail explore the key trends set to shape the sector over the next year
Moderated by freelance writer and editor Julia Glotz, our panel will discuss grocery habits in the wake of Covid, how the events of 2020 have shaped shopper attitudes and spell out what this means for fmcg manufacturers and retailers in 2021.
You'll also get a chance to submit a question to the panel when you register your interest here.
So who are they?

Sam Killip, Head of the Centre of Expertise, Attest
An experienced research leader, Sam has spent the past 7 years working in customer success for leading data-driven agencies, before moving into the SaaS space to join Attest. In her time at Attest, Sam has contributed heavily to enhancing the CS offering and works closely with key clients. Sam is an experienced public speaker, and regularly runs webinars and masterclasses on all things research and data.
Hugh Thomas, CEO and Founder, Ugly Drinks
Hugh started Ugly in the UK, before bringing the brand to the US in 2018. Ugly looks to take on the soda industry by making no sugar, no calorie sparkling water accessible to all. Now in 15,000+ stores and sold across both the US and UK, Ugly is set to become a truly global beverage company. Before Ugly, Hugh worked in the brand teams at Vita Coco Coconut Water, and Heinz Ketchup.
Webinar Host
Julia Glotz, Freelance writer and editor
Julia is a writer, editor and consultant specialising in food and drink, with 15 years' experience working in trade media. She was on staff at The Grocer for nine years, including five years as managing editor.