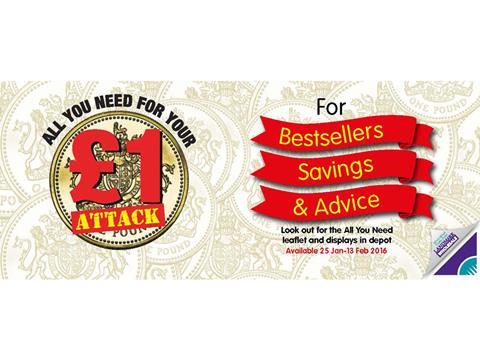 Landmark Wholesale is marking down 100 of its bestselling products to £1 in its biggest-ever new year marketing push.
The £1 Attack will run in-depot from 25 January to 13 February with many top-selling lines priced at £1 for a single product or in a multibuy deal.
Brands including Tango, Coke Zero, Cadbury Milk Chocolate Fingers, Evian, Monster Munch, Weetabix and Ribena are included in the promotion.
Landmark will also be providing retailers with PoS and stock advice in-depot as part of the campaign.
"We know the pressure faced by independent retailers and we want to help them fight back with great deals against the discounters and supermarkets," said Landmark Wholesale marketing controller Phil Marx.
"This is our biggest-ever £1 promotion and we're giving retailers a brilliant start to the year by offering so many fantastic products at such great prices."
The £30 Cash Back deal is still valid alongside the promotion for Lifestyle Express retailers.