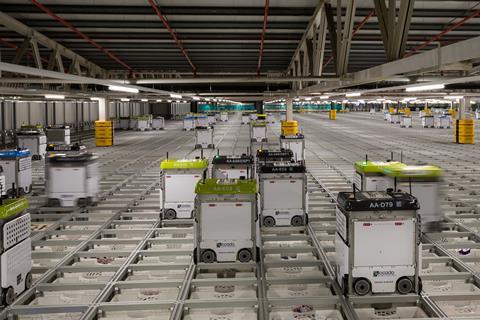 Top story
Ocado (OCDO) shares dropped 2.7% this morning to their lowest level in a month after news emerged late on Friday that the fire that devastated its Andover warehouse in February was caused by an electrical fault related to the charging of its robots.
The online grocery has seen its share price soar over the past 18 months as it has sold its technology around the world and has agreed a £1bn joint venture with M&S for its UK operations.
However, the shares have dropped 2.7% to 1,360p this morning - having fallen as low as 1,322.2p - after a circular to investors said that fire investigators had found that an electrical fault in the battery charging unit of one of its robots had caused the Andover blaze.
The circular said: "The conclusion reached is that the cause of the fire at CFC 3 was an electrical fault at one of the first-generation battery charging units at the edge of the ambient storage grid which caused the plastic lid on the top of a grocery carrying robot to catch alight."
However, the company sought to reassure investors by saying it has "undertaken a number of remedial actions intended to eliminate the risk of such an event occurring again", including the removal of these plastic lids, the introduction of localised smoke detectors and the adding of heat sensors.
"This lid serves no practical purpose and its removal has not impacted the efficiency of the bots in any way," Ocado said.
"Going forward, there are no significant implications for the risk profile of the group's assets or the viability of the group's model."
Ocado began deliveries from a new warehouse adjacent to its destroyed Andover customer fulfilment centre earlier this month.
Deliveries from a new temporary Andover 'spoke' - the name Ocado gives to the smaller warehouses that support its full-sized CFCs - began in the middle of April.
Despite this morning's share price fall, Ocado shares remain up 145% year-on-year after a rise that has propelled the company into the FTSE 100.
Morning update
Tesco (TSCO) has updated the market this morning on the impact of its adoption of IFRS 16 accounting standards on its 2018/19 financial year.
Tesco will adopt the measures for its 2019/20 financial year and will apply the new standards retrospectively as the move will have an impact on a number of reported figures.
While sales and total cash flow remain completely unaffected, the move will impact Tesco's reported profits due to the different treatments of rent and depreciation.
Therefore, 2018/19 group operating profit will increase by £401m to £2.6bn as rent is removed and only part-replaced by depreciation and group operating margin increases by 63 basis points to 4.1%, including an increase of 64 basis points to 3.6% in the UK & ROI and an increase of 19 basis points to 18.1% in Tesco Bank.
However, profit before tax will fall by £152m and due to the combination of depreciation and interest being higher than the rent they replace. Tesco said this is due to the "relative immaturity of the group's lease portfolio, with leases being around one-third expired on average".
Net assets will also reduce by £1.3bn to £13.5bn, while total indebtedness increases by £3.3bn to £15.5bn due to the treatment of leases under the new rules.
On the markets this morning, the FTSE 100 has edged up 0.2% to 7,439.2pts.
Early risers include DS Smith (SMDS), up 1.3% to 371.5p, Hotel Chocolat (HOTC), up 1.2% to 369.5p and McColl's (MCLS), up 0.8% to 86.3p.
Fallers so far today include FeverTree (FEVR), down 0.8% to 3,093.2p, Unilever (ULVR), down 0.8% to 4,550p and Majestic WINE (WINE), down 0.8% to 260.5p.
This week in the City
A busier post-Easter week is headlined by Sainsbury's (SBRY) annual results on Wednesday – and particularly what CEO Mike Coupe has to say about its collapsed merger with Asda and where the under-pressure supermarket goes from here.
Before that, brewer and pub operator Greene King (GNK) will issue its first quarter sales numbers tomorrow morning, while Coca-Cola's UK and primary European bottler Coca-Cola European Partners (CCEP) will issue its first quarter trading update, which will be its first since listing its shares in the UK.
Thursday brings first quarter updates from Irish food group Kerry Group (KYGA) and FTSE 100 consumer health giant Reckitt Benckiser (RB).
There are also a number of AGMs on Wednesday and Thursday, including Nichols (NICL), Just Eat (JE), Ocado (OCDO), Kerry Group and Unilever (ULVR).
It's another busy week for international consumer stocks, with first quarter updates from Beiersdorf, Mondelez and McDonalds tomorrow, while Kellogg's (K) and Kimberly Clark issue first quarter numbers on Thursday.
In economic news, Thursday brings the latest Bank of England interest rate decision, while this week will see the publication of the monthly PMI figures for UK construction, manufacturing and services output.
Also the latest monthly grocery market share figures from Kantar and Nielsen will be published tomorrow morning at 8am, while the monthly GFK Consumer Confidence figures will also come out on Tuesday.