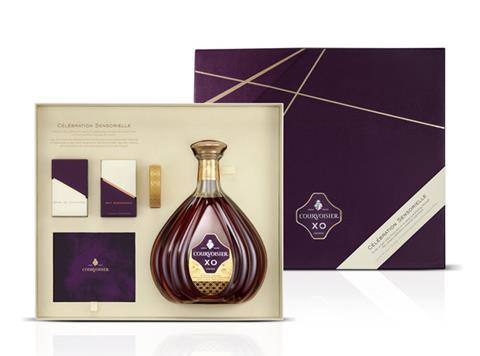 Courvoisier is the latest spirits brand to turn drinking into a multi-sensory experience, with the launch of two luxury gift packs containing two bespoke fragrances designed to evoke the Paris of the Belle Époque.
The scents are called 'Brise de Vincennes' (the breeze from Vincennes) and 'Nuit Débordante' (heady night), and are intended to conjure the aromas of the French capital during the daytime and night-time respectively at the turn of the twentieth century.
Each of the two Célébration Sensorielle gift boxes contains a 70cl teardrop-shaped bottle of Courvoisier, either XO or Initiale Extra, and a Courvoisier brand book with tasting notes and historical information. The XO version (rsp: £190) contains 20 miniature fragranced aroma cones, 10 of each flavour, while the Initiale Extra version (rsp: £397) has two fragranced candles.
The fragrances are designed to heighten the flavours of the Cognac, which consumers are encouraged to drink while the candles or cones are lit. The idea follows innovations such as 'The Boldest Glass', introduced earlier this year by Johnnie Walker – a vessel containing a device that turns the surface of the glass into a speaker, and uses bone conduction to carry music to the user's ear as they drink.
"Spirits consumers are becoming more involved with the brands they choose than ever before," said Maxxium UK marketing controller for luxury brands Chris Anderson.
"They have a need to connect with a brand through authentic experiences so we developed these luxury gift packs to give cognac connoisseurs and those that enjoy the finer things in life the opportunity to experience Courvoisier like never before."
Sales of Courvoisier, the UK's leading Cognac brand, are up from £51.8m to £57.0m [Nielsen 52 w/e 25 April 2015]. 88% of sales are accounted for by the entry level variant, VS.