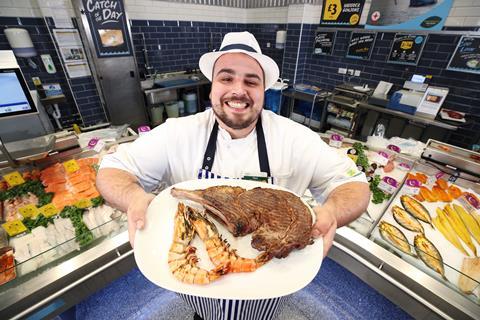 Morrisons has launched a giant surf & turf special for Father's Day.
The super-size promotion, which the retailer is calling its "meatiest challenge yet", includes one Morrisons The Best Tomahawk Steak and two Black Tiger Prawns (£20).
The bone-in steak weighs in at 900g, the equivalent of four Morrisons rump steaks, and the 25cm-long prawns weigh over 100g each.
"The giant surf & turf is our meatiest challenge yet for dads on Father's Day," said Morrisons senior meat buyer Jodie Bolland.
"We hope they enjoy it this weekend – whether they're attempting it solo or enjoying it as a family meal."
The promotion will be available from 13-16 June as part of the supermarket's Father's Day celebrations, which included the launch of a Gingerbread Prince last week.
Aldi Bigger Daddy rump steak
Aldi is also supersizing its offer for Father's Day. The discounter is going one up on its annual Big Daddy rump steak (£4.99/16oz) special with the launch of the Bigger Daddy rump steak (£7.99/28oz).
The 21-day matured, extra-thick steak feeds a family of four and is in stores now, alongside the Big Daddy, until stocks last.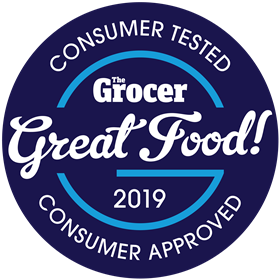 Interested in own-label? The Grocer Own Label Accreditation Scheme allows UK retailers to gain independent consumer approval of their products and a robust, objective analysis of their quality and purchase intent.