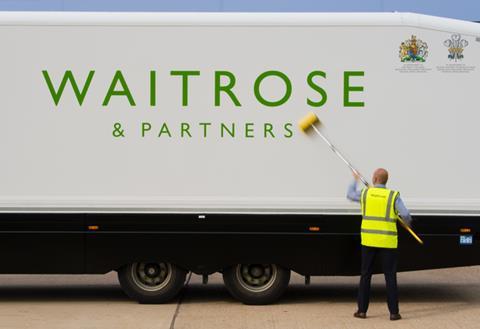 Waitrose and parent company John Lewis are set to roll out a new corporate identity as they look to differentiate from rivals by flagging up their partnership business model.

The retailers have been renamed Waitrose & Partners and John Lewis & Partners as part of a wider effort to enhance and celebrate customer service.

The new names will feature across stores, carrier bags, uniforms, trolleys and their respective social media channels and websites.

JLP's flagship Oxford Street store and Westfield White City have already been given the new identity while Waitrose stores in Edgware Road and Clerkenwell in London have become the first supermarkets to be updated.

The full identity change to all 348 Waitrose and 50 John Lewis shop facades, and the combined fleet of 3,500 lorries and vans, is being phased over a number of years to tie in with refurbishment plans.

The packaging of Waitrose own-label product ranges will begin changing from October, starting with the new Christmas range alongside the launch of its new free-from range at the same time.
"This moment is far more significant than simply adding words and changing the design," said Waitrose & Partners managing director Rob Collins. "It symbolises something bigger, expressing what's different about our business and signalling our intent to make that difference count for even more: committed, knowledgeable partners who care about the business they own, sharing their love of food and offering great customer service."

John Lewis & Partners managing director Paula Nickolds added: "Our partnership business model and the inherent strength of our partners really sets us apart. That's why the change to our visual identity this week puts partners back at the heart of everything we do. This move not only reflects the business we have become but more importantly, the business we want to be."

JLP is training staff to become customer service ambassadors that provide "warm and personalised" customer service front of store, are healthy eating specialists and provide a concierge-style service, while personal stylists will be equipped with new skills to deliver daily fashion talks in John Lewis stores. It will also invest in technology to improve customer service even further.

To mark the changes, the retailer has launched its first joint national marketing campaign for John Lewis and Waitrose. It includes an online, cinema and TV advert showcasing children working together to create a performance of Queen's Bohemian Rhapsody, and ends with the line 'For us, it's personal'.

The John Lewis Partnership said in June that it would continue to invest in both businesses at a rate of £400m to £500m per year, to enable them to differentiate themselves from other retailers by innovating in products, customer service and services.