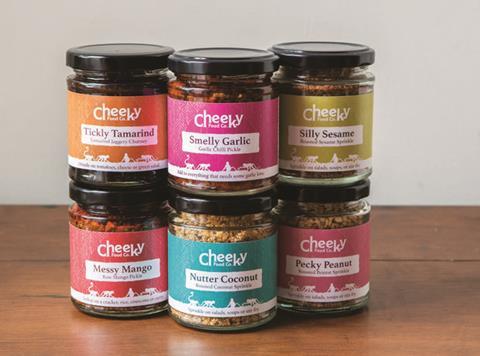 A former mathematician and engineer has launched a range of Indian cooking ingredients inspired by her own culinary shortcuts.
Cheeky Food Co was founded by Swati Biwal, who would save time in the kitchen by preparing mixtures based on family recipes.
The range includes Messy Mango Pickle, Smelly Garlic Pickle, Tickly Tamarind Chutney, and three savoury sprinkles: Silly Sesame, Pecky Peanut and Nutter Coconut. All six are available in jars ranging from 70g-220g (rsp: £4.50), while the sprinkles also come in a 25g to 30g sachet (rsp: £2.25).
Biwal said the sprinkles - mixes of ground nuts or seeds with salt and spices - were a market first.
"Our sprinkles are easy hacks for the modern busy lifestyle," said Biwal. "We recommend sprinkling them on salads, soups, stir-frys, roast vegetables, rice, cous-cous, quinoa or even that morning toast.
"They bring an entire new food category of wholesome, vegan, gluten free, all-natural garnishes for everyday meals. We use no added sugar in our sprinkles, which makes them on trend with the current initiatives towards sugar control in food."
The brand recently rolled out in Selfridges as part of the retailer's Meet The Makers campaign.