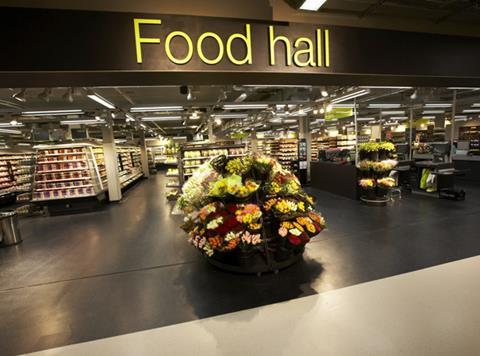 Top story
Marks & Spencer (MKS) has warned that "further significant change is needed", as it reported a further decline in first half food and clothing sales.
Like-for-like food sales sunk 2.9% in the six months ended 29 September 2018, "reflecting tough trading", the chain admitted.
Total revenues over the half year fell 3.1% to £4.96bn, as like-for-like clothing & home sales slumped 1.1%.
Despite dipping revenues, adjusted pre-tax profits at the retailer rose 2% to £223.5m, ahead of market expectations, as it ploughed on with its major restructuring plan.
The company added that the results reflected its closure of over 100 full-line stores, also to pointing a change from promotion to "every day value" and the timing of Easter for sliding food sales.
In its trading update, it warned investors that it expects "little improvement in trajectory" for the rest of the year, highlighting additional headwinds from "the growth of online competition and the march of the discounters".
Despite beating analyst predictions, profits were also constrained by the upheavel, with a further £96.8m of exceptional charges booked, including £47m related to UK store closures.
"This phase is about rebuilding the foundations of the future M&S and we are judging progress as much by the pace of change as the trading outcomes," commented chief executive, Steve Rowe.
"Already, we have reorganised into a family of strong businesses in the biggest change to our structure for decades. We now have a largely new, very determined and energetic management team in place. M&S is becoming a faster, more commercial and more digital business.
"We are on track to restructure our store portfolio with over 100 full-line closures and expect to see newly remodelled stores open next year.
"We are fixing the basics of our online channel and there are very early signs of improvement. Every aspect of our ranges, how we trade, our supply chain and marketing is undergoing scrutiny and change."
M&S shares have fallen 8% in the past year, with fears that the retailer is expected to slip out of the FTSE 100 index.
The Sunday Times reported earlier this week that the high street bellweather explored a radical plan to split into two separate businesses before concluding that the move would not generate value for shareholders.
Marks & Spencer slumped 3.1% to 293p in early trading.
Morning update
Dairy Crest's (DCG) first half adjusted profits rose double digits in the continued strong performance of its Cathedral City and Clover brands.
The cheese and butter manufacturer reported a 13% jump in pre-tax profits to £22.7m, as total revenues increased 2% to £224.9m in the half-year to 30 September.
Reported profit however dived 88% to £17.8m, owing to £4.9m in exceptional costs mainly related to new IT systems, the company said.
Sales of spread brand Clover jumped 9%, while Cathedral City sales rose 7% on the back of pricing as volume sales slipped 3%.
High butter prices also drove declining sales for the Country Life spread brand, which saw a 4% drop in revenues. Sales in oil brand Frylight also continued to slide, slumping 22% over the six month period.
"We have delivered a good first half performance driven by our two largest brands, Cathedral City and Clover. Demand for our Functional Ingredients continues to grow," commented chief executive Mark Allen.
"Our investment at Davidstow is progressing as planned. We are pursuing a number of opportunities to take Cathedral City into new international markets as well as deepen its penetration into existing domestic channels, capitalising on its status as one of the UK's top ten brands according to YouGov. We are confident in delivering our expectations for the full year."
Elsewhere, Kerry Group reaffirmed its full-year forecasts as it posted a 3.5% jump in sales volumes for the nine months ended 30 September.
Growth was driven by reported sales growth of 2.2% and the contribution of acqusitions, including Fleischmann's Vinegar Company.
Kerry's taste and nutrition category delivered 4.1% growth driven, by sales in meat, beverages and snacks, it said.
"We are pleased with our performance to date in 2018, with volume growth well ahead of our markets and underlying margin expansion in line with expectations," commented CEO Edmund Scanlon.
In the third quarter we have delivered good volume growth against very strong comparatives. We have also made good progress across our strategic growth priorities, including the recent acquisition announcements of Fleischmann's Vinegar Company Inc and AATCO Food Industries LLC.
In summary, we are encouraged by the progress we have made in 2018 and reaffirm our full year 2018 guidance of adjusted earnings per share growth of 7% to 10% in constant currency."
National pub operator JD Wetherspoons (JDW) revealed a 5.5% jump in like-for-like sales over the 13 weeks to 28 October, driven by the warm summer.
In the trading update, Martin also included a "few hundred words on the advantages of free trade", claiming benefits from a deal with the EU to be "illusory".
The FTSE 100 has rebounded after the Democrats won the House of Representatives in the US midterm elections, jumping 0.9% to 7,101p.
Early risers this morning include British American Tobacco (BATS), up 2.1% to 3,410p, Just Eat (JE.), up 1.9% to 633p, Associated British Foods (ABF), up 1.8% to 2,503p.
Early fallers this morning include Majestic Wine (WINE), down 2.1% to 400.5p, and Young & Co Brewery (YNGA), down 1.1% to 1,483p.
Yesterday in the city
As investors waited for the results of the US mid-term elections, the FTSE 100 slumped 0.9% to 7,040pts.
One of the day's worst performers was Morrisons (MRW), which dropped 4% to 244.5p after its third quarter results highlighted a slowdown in core sales.
The group's like for like (ex fuel) sales rose 5.6% in the 13 weeks to 4 November driven by a surge in wholesale revenues, but core retail sales growth slowed.
Other fallers included Purecircle Limited (PURE) down 4.9% to 317p, McBride (MCB), down 4.7% to 125.8p, McColl's (MCLS), down 4% to 133p and Wincanton (WIN), down 3.1% to 222p.
Associated British Foods (ABF) jumped 3% to 2,460p after core full-year profits grew in the quarter, despite a collapse in the profitability of its sugar division.
Adjusted operating profits were up 3% to £1.4bn in the year to 15 September 2018 and up by 5% on a constant currency basis.
Other risers in yesterday's trading included Devro (DVO), up 2.4% to 169p, Domino's Pizza Group (DOM), up 2.3% to 288.4p, and Stock Spirit Group (STCK), up 2.2% to 196.8p.