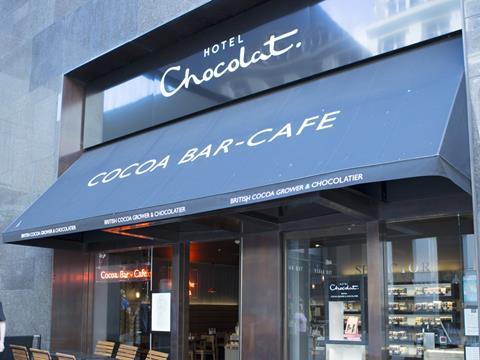 Hotel Chocolat has chosen around a third of its 112 stores to keep open during England's second national lockdown.
This comes as government guidance for the month-long measures deemed food businesses essential, therefore allowing them to continue trading.
The upmarket chocolatier would not outline why the branches were selected, but confirmed in-store cafés would also remain in operation as takeaway services.
CEO and co-founder Angus Thirlwell said it would only keep the stores open "where customer support is strong enough, indicating that we are serving a purpose".
Its retail shops also remain open in Scotland and Northern Ireland, while its Welsh branches reopened this week (9 November) following its 17-day 'firebreak' and stores in the Republic of Ireland are due to reopen on 13 November.
"The safety of our customers and team is our number-one priority and we have spent the past eight months meticulously honing the measures we have in place to enable us to make this move with confidence," the retailer said in a statement on its website.
Hotel Chocolat closed its entire store estate from 23 March, saying at the time it needed to keep customers and employees safe. Businesses such as supermarkets, food shops and pharmacies were able to continue trading during England's first national lockdown, but Hotel Chocolat opted to become an online-only business until June. This led to a "material" impact on its trading ahead of Easter, it said.
Government protocols for the second lockdown in England include telling all non-essential retailers, such as clothing and homeware stores, to close their doors, and only operate via click & collect or delivery services for the period. This has forced supermarkets to close down large areas of their branches containing non-essential products, due to the measures only allowing such items to be sold if they are not stocked in distinct areas such as separate mezzanine floors, standalone neighbouring buildings and on concession stands.
Hospitality venues, meanwhile, can only trade through deliveries, click & collect, drive-through or takeaway options before 10pm.