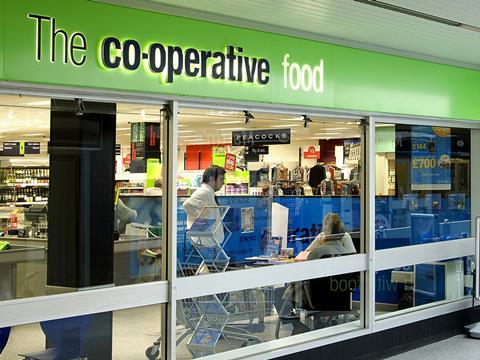 The Co-operative Group has emerged the fastest growing non-discounter in sales for the first time in five years according to the latest grocery market data from Kantar Worldpanel.
Its spurt came as both Aldi and Lidl accelerated sales growth and the overall marketplace enjoyed a new year health kick boost from fresh.
The Co-op increased sales by 1.4% in the 12 weeks to the end of January. Its own-label sales climbed 7%, with fresh and chilled enjoying the biggest increase. It outperformed the total grocery market, which was up just 0.2% over the period.
Kantar said the Co-op, with a stable market share of 5.9%, was the most frequently visited grocer with its customers shopping there an average of almost 19 times over the past 12 weeks compared with a market average of 11 visits.
Fraser McKevitt, head of retail and consumer insight at Kantar Worldpanel, noted that in terms of the overall market fruit & vegetables had both grown sales by 5% - "a significant revenue growth for both categories, shared across both traditional and discount retailers". Similar growth was seen in nuts, fresh poultry and fish.
Waitrose enjoyed the longest current run of success for any supermarket with its 91st consecutive period of growth. Sales increased 0.1% and market share remained static at 5.2%.
Sainsbury's increased sales for the sixth consecutive period - up 0.6% - and its market share edged up 0.1 percentage points to 16.8%. Tesco's revenues fell 1.6%.
Morrisons' sales decline slowed to 2.2% and its market share fell 0.3ppts to 10.8%. Its disposal of 140 M Local stores and the closure of some larger outlets through the rest of this year would continue to be reflected in its performance, Kantar Worldpanel said.
Asda's recent announcement of renewed price cuts have not yet had time to materially affect its latest 12-week figures, with sales down 3.8% and its market share falling back to 16.2%.
Lidl's growth accelerated to 18.7% and Aldi's to 13.7%. Both saw their individual market share increase 0.7 percentage points - Lidl's rose to 4.2% and Aldi's to 5.6%. However, their combined market share dipped from the 10% experienced at the end of last year.
"It's encouraging for us and for our customers that Lidl continues to be the fastest growing supermarket in the UK. This continued growth is testament to the hard work of all our employees who make everything possible for our customers," said Lidl chief operations officer Martin Baillie.
"Whilst shopping habits are clearly evolving, the priorities for our increasing customer base remain the same: being able to buy fresh, quality produce without spending the earth."
Iceland's pain continued with a 2% decline in sales while symbols and independents, with 1.9% of the market, suffered a 0.8% sales decline.
Steve Murrells, retail chief executive at the Co-op, said: "We are beginning to show good momentum as our retail strategy is well established and the business is making significant improvements across the board.
"We had a very strong Christmas, which has continued into 2016. Consumers are voting with their feet, as our convenience offer meets the needs of a modern lifestyle by offering quick and easy products and services for those shopping little and often."