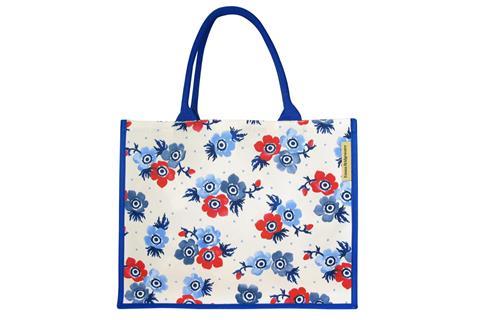 Waitrose has launched its second collection of reusable shopping bags made entirely from recycled plastic bottles and designed by Emma Bridgewater.

The bags are supplied by Jutexpo, and 10% of their price will be donated to the Marine Conservation Society. The society was voted for by Waitrose's partners, and the supermarket has already donated £1m from its carrier bag levy funds to it.

Sales of the wipe-clean bags are expected to generate more than £40,000 for MCS over the next six months, Waitrose said.

The new floral range consists of a jute-style bag created using 12 plastic bottles (rsp: £6) and a fold-away pouch bag made from four bottles (£4). They are formed through a process that turns the plastic into durable and practical fabric polyethylene terephthalate.
The material first launched in May 2018 and since then more than 298,000 Emma Bridgewater bags have been made from recycling over 1.8 million plastic bottles.

"Single-use plastic bags are becoming a thing of the past and our customers are looking for more environmentally friendly options," said Waitrose buyer Karen Stenton. "These beautiful bags not only look good, but they do good too. As well as contributing to the reduction of plastic in the environment, each purchase supports a really worthwhile charity which is helping to clean the UK's seas and beaches and protect our marine life."

Marine Conservation Society chief executive Sandy Luk said: "All of us can do more to reduce our consumption of single-use plastic. These innovative bags are not only helping customers to move away from single-use plastic bags, but they've also taken 1.8 million plastic bottles out of circulation and prevented them from littering our coastline. We are delighted that Waitrose chose the society as a charity partner and with the funds we receive in donations. MCS will continue its work to clean up our beaches and press for improved recycling across the UK."