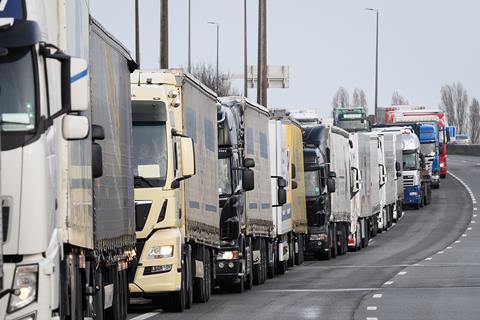 Logistics bosses have welcomed the government's decision to scrap plans for an off-road lorry park in Kent, originally intended to deal with post-Brexit border disruption.
However, both transport companies and retail leaders are calling for urgent action to ensure the ports are ready for the end of the transition period on 1 January.
Operation Brock was set up to help ease the flow of up to 10,000 lorries using key ports during peak periods. It saw concrete barriers installed on the M20 in January, which have now been removed.
Instead, the government has approved plans for a moveable concrete barrier that can be set up within hours and used flexibly on any stretch of the motorway.
The move sees the abandonment of plans for a permanent lorry park site in Kent, with government transport bosses claiming the moveable barrier will enable them to keep traffic moving.
"After listening to frustrated residents and businesses affected by Operations Brock and Stack, we've invested in a new solution to boost Kent's resilience and keep its vital road network moving, even at times of disruption," said transport secretary Grant Shapps.
Freight Transport Association policy manager for the south east of England, Heidi Skinner, said: "No operator wants to be stuck in slow-moving or stationary traffic, and today's announcement will come as a welcome respite for those concerned about the impact of potential delays on the UK's supply chain from the Continent, as well as on businesses and residents in Kent.
"However, there is more to be done to ensure that the new system will work in the best way possible and manage the congestion any form of cross-channel disruption can cause, and we look forward to working with Highways England and DfT on this."
Today the BRC said the government needed to move quickly to ensure construction of infrastructure at the ports, warning it was one of the main risks to trade post-transition period, and could contribute to food shortages and price rises.