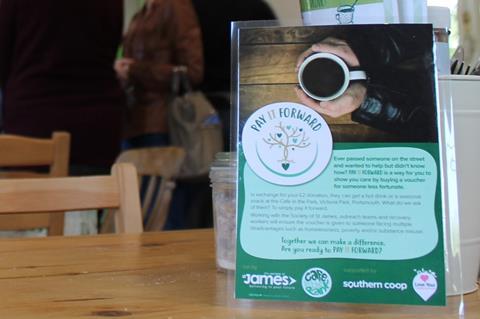 Southern Co-op customers have bought more than 1,400 vouchers used to buy homeless people drinks and snacks since the start of its 'Pay It Forward' scheme.
The campaign was launched in July last year by the Society of St James, which is the society's head office charity partner for 2019/20.
More than 1,430 vouchers have now been bought as part of Pay It Forward and given to someone facing disadvantages such as homelessness, poverty and/or substance misuse.
"When we set out to find our charity partner in 2019, our aim was to work with a charity about more than just money, and our partnership with SSJ has delivered just that," said Jessica Hughes, community investment manager at Southern Co-op.
"Colleagues are already committed to running local 10ks, 100-mile bike rides, volunteer days and skills shares, to name a few. We also have future commitments to their sports programme, their women's project and are looking to understand more from their expertise through our 'Protecting Our People' programme.
"We are excited to see how we can truly deliver a long-term impact for those who are homeless, who have experienced trauma and/or found themselves in difficult circumstances, perhaps trapped in a cycle of offending behaviour and drug or alcohol misuse."
The partnership with SSJ has been extended for another year thanks to the success of the Pay It Forward scheme and other initiatives.
SSJ has also helped Southern Co-op with its own work to tackle drug-related crime. Colleagues across Southern Co-op have met with ex-offenders who have shared their own experiences of crime.
"We are delighted that Southern Co-op has decided to extend our partnership for another year," said SSJ communications officer Dennis Jones. "I think the scope and depth of possibilities for us to improve lives for vulnerable people together has taken everyone by surprise – there is so much more to explore.
"Their colleagues have taken the charity to heart and are always there at the end of the phone to offer support. They have helped our charity grow, staff members learn new skills and, more importantly, helped SSJ provide a positive future to so many vulnerable people. We can't wait to get stuck into the innovative projects lined up for this next year."