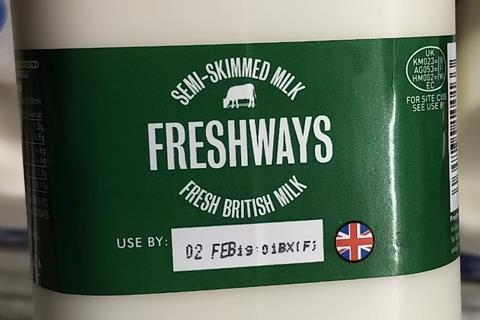 Mid-market liquid milk processor Freshways has been handed a lifeline after signing a deal to supply Morrisons.
The Grocer understands the London-based processor has been taken on as a supplier for Morrisons' wholesale operation, which supplies food and drink to the likes of convenience retailer McColl's and Amazon Fresh.
Morrisons confirmed it was "working with Freshways" but declined to comment any further, while Freshways MD Bali Nijjar also declined to comment on the arrangement. However, the move is expected to lead to the replacement of Safeway-branded milk into these channels by Freshways-branded milk.
The deal should provide a boost to Freshways, following a collapse in demand across the foodservice sector earlier this month in response to the coronavirus crisis.
With cafés and restaurants forced to close on 20 March, Freshways warned of "operational challenges" to its business earlier this month, as it reduced its farmgate milk price and extended its payment terms to farmers from a month to 45 days.
In a letter sent to customers, Nijjar warned the processor was "incurring losses" after losing a significant chunk of its foodservice and hospitality business, which represents about 40% of its operation.
"With the country entering into further lockdown, my concern is that this will go to zero potentially," the letter, seen by The Grocer, added. As a result, the processor was having to sell milk originally destined for foodservice into the spot market, Nijjar pointed out.
It comes as another milk supplier, Hampshire-based Pensworth, this week warned it would have to delay payments to farmers for their milk after the collapse of the foodservice channel had a "major impact on our cashflow".
Pensworth said it was in the process of arranging "a substantial funding package with our bank", but after losing about 30% of its business in the foodservice channel "overnight", it would have to delay payment.
The supplier is proposing paying farmers 25% of what they are owed on four payment dates during the next month, with the remainder to be paid once its cashflow issues are remedied.
Director Arthur Dunne told The Grocer, the business expected to return to normal payment terms within six weeks, while stressing the company's long-term future was secure "and diversified".