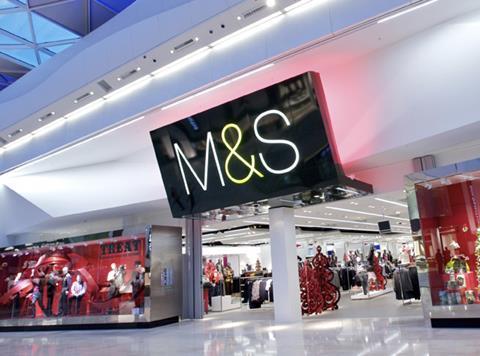 Top story
Marks & Spencer (MKS) has warned of the "severe impact" of the coronavirus outbreak on its clothing and home business and has detailed a cost-control programme to mitigate the damage.
M&S said it is seeing "substantial" sales declines in its clothing and home division and warned of necessary cost cutting, albeit it expects to redeploy significant numbers of colleagues to support its food business.
It said it is planning on the basis of a prolonged downturn in demand for clothing and home and has drawn up contingency plans to close a number of stores on a temporarily basis.
"However, our business model of operating parallel Clothing and Food businesses and our strategy to move online including the Ocado joint venture should provide more resilience than some single sector businesses," it stated.
Although it is possible that conditions may ease as we get into summer trading, margins are likely to be severely impacted by the surplus of unsold seasonal stock and probable clearance activity in the marketplace.
M&S said it is therefore taking all possible steps to defer supply.
However, it stressed that it expects its food business to trade profitably throughout the period.
It said it has so far benefited on a small scale as customers stock up but our heavy bias to chilled and fresh means we are not seeing the forward buying uplift experienced by the major grocers.
"The significant shift to eating in home should however continue to benefit sales in the months ahead. Although there will undoubtedly be supply interruptions, we do not expect these to be prolonged or financially material," M&S stated.
More generally, it is cutting capital spend, having committed to only £80m of the planned capex of up to £400m in its new financial year, redeploying colleagues into its food business and deferring pay increases, deferring or cancelling discretionary spend and reducing its supply pipeline by over £100m.
M&S also said it does not anticipate making a final dividend payment for this financial year, resulting in an anticipated cash saving of around £130m.
"While there are many uncertainties, we expect to come through this period in a strengthened competitive position. We have a strong Food business and can balance activity between our operations under the single M&S brand. We have a well-developed online proposition in clothing & home and a 50% shareholding in Ocado Retail, the UK's fastest growing pure play online retailer. M&S is a strongly cash generative business and has access to very substantial facilities and liquidity."
"The board remains confident of the transformation programme and does not believe that the long-term value of M&S beyond the coming year will be impacted by the virus."
Morning update
After the markets closed last night, the government announced it is temporarily relaxing elements of competition law as part of a package of measures to allow supermarkets to work together to feed the nation.
The move will allow retailers to share data with each other on stock levels, cooperate to keep shops open, or share distribution depots and delivery vans. It would also allow retailers to pool staff with one another to help meet demand.
The government has also temporarily relaxed rules around drivers' hours, so retailers can deliver more food to stores, and is waiving the 5p plastic BAG charge for online purchases to speed up deliveries.
Environment Secretary George Eustice said: "We've listened to the powerful arguments of our leading supermarkets and will do whatever it takes to help them feed the nation.
"By relaxing elements of competition laws temporarily, our retailers can work together on their contingency plans and share the resources they need with each other during these unprecedented circumstances.
"We welcome the measures supermarkets are already taking to keep shelves stocked and supply chains resilient, and will continue to support them with their response to coronavirus."
Hotel Chocolat (HOTC) has announced it is to raise £20m through a share placement to fund growth and provide additional financial headroom.
It announced this morning that trading both in the UK and in the Company's international markets of the USA and Japan had been "encouraging" up to the end of February with Group revenue having increased by 6% year-on-year in February.
However, its trading in March-to-date has "inevitably slowed" as the outbreak of COVID-19 has impacted footfall both in the UK and internationally with group retail revenue having decreased by 5% year-on-year in March-to-date.
With the increasing possibility that the UK Government will impose further public health measures, Hotel Chocolat anticipates the ongoing effect of COVID-19 and the continued reduction in high-street footfall is likely to result in some or all of the company's stores being closed for a period, which will impact company sales and profits.
Mother's Day and Easter, two important trading periods for the Company, typically contribute around 12% of the group's annual revenue.
The group said it intends to leverage its multi-channel model by rebalancing inventories toward online and digital wholesale, while it "maintains a strong relationship with its lending bank and [has] cash on the balance sheet".
"Notwithstanding the challenges currently being faced due to COVID-19, the Group remains committed to the Company's long-term growth plans which should deliver meaningful Shareholder value over the next five years. This fundraise of £20 million should not only provide the growth capital required but also provide additional flexibility if it so becomes needed.
"The Hotel Chocolat brand is strong and the Company's longer-term growth plans and opportunities in the UK, the USA and Japan remain unchanged."
In this week's issue of The Grocer, read about concerns that the government's emergency measures are letting down food and drink SME's who face a "wartime" grocery market, the way supermarkets are coping with the coronavirus epidemic so far and the 2020 Alantra Fast 50 rankings of the market's fastest growing food and drink firms.
Check out thegrocer.co.uk/finance for details.
On the markets this morning, the FTSE 100 has continued to recover, up another 2% to 5,254.1pts so far today.
Early risers include Mitchells & Butlers (MAB), up 23.6% to 124.6p, Marston's (MARS), up 19.4%, McColl's (MCLS), up 14.1% to 22.6p, WH Smith (SMWH), up 11.1% to 778.5p and SSP Group (SSPG), up 11% to 216.5p.
Fallers include Reckitt Benckiser (RB), down 5% to 5,866p, Marks & Spencer, down 3% to 112.6p, Morrisons (MRW), down 2.4% to 186p and Unilever (ULVR), down 2.1% to 4,248.5p.
Yesterday in the City
The FTSE 100 recovered 1.4% to 5,151.6pts yesterday as the market continued to broadly stabilise after the latest crash on Monday.
Yesterday was notable for the recovery of a number of stocks that have seen their share price plummet in recent weeks.
Travel food to go specialist SSP Group (SSPG) was back up 29.3% to 195p having fallen from around 680p before the crisis.
Greencore (GNC) was back up 23.9% to 133.3p and Bakkavor rose 17.3% to 70.7p after both being hit by a drop in fresh food to go sales.
Other risers included Nichols (NICL), up 12.1% to 1,020p, Kerry Group (KYGA), up 9.4% to €107.10, Diageo (DGE), up 9.1% to 2,400.5p, Naked Wines (WINE), up 8.7% to 243.5p, Stock Spirits (STCK), up 6.8% to 142p and Hotel Chocolat (HOTC), up 6.7% to 232p.
The supermarkets, which have defied the market slump in recent weeks, were pulled back down to earth yesterday.
Morrisons (MRW) gave back 4.4% of its big gains this week to slip back to 190.6p, Sainsbury's (SBRY) fell 2.8% to 210.2p and Tesco (TSCO), dropped 1.1% to 226.1p.
Pub groups continue to suffer, with Marston's (MARS) down 17.6% to 26.3p and Mitchells & Butlers (MAB) down 11% to 100.8p.
Other fallers include Glanbia (GLB), down 8.6% to €7.68, Cranswick (CWK), down 7.7% to 2,922p, Premier Foods (PFD), down 6.6% to 18.5p, Applegreen (APGN), down 5.8% to 245p, WH Smith (SMWH), down 5.7% to 700.5p and DS Smith (SMDS), down 4.8% to 280p.