Companies have failed to hit reduction targets, but a lack of data on various sectors means PHE is withholding the stick… sort of
Considering its well-publicised failure to hit PHE's sugar reduction targets, it seems counterintuitive for the industry to be pleased at this week's "naming and shaming exercise" by government health boffins.

But there was a collective sigh of relief from manufacturers and retailers, who realised the aftermath of the 300-page dossier could have been a lot worse.

Figures released by PHE showed there had been an overall 2% reduction in sugar from a 2015 baseline, well short of the 5% target for the first year of the programme set in March last year, with some categories even seeing an increase in the amount of sugar being sold.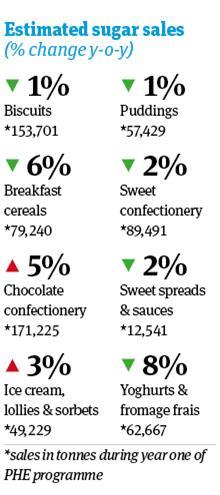 But has the failure been spectacular enough to tip the argument in favour of critics who say the time has now come for the government to resort to far more draconian measures, such as an extension of its controversial soft drinks levy and a war against junk food promotions?

MPs and NGOs alike were quick to slam the failure of ­companies to hit the targets.

The results, from Kantar Worldpanel data collected in August 2017, show that of the top 20 brands responsible for the greatest use of sugar, only 33% cut their sugar content, with 56% seeing no change and 12% adding more.

There was good news, including cuts in sugar levels in five out of eight food categories where progress had been measured. Yoghurts and fromage frais (-6%) breakfast cereals (-5%), plus sweet spreads & sauces (-5%) all hit or exceeded the target of a 5% fall in sugar per 100g across the period.

But sectors including biscuits (0%), chocolate confectionery (0%) and puddings (+1%) either failed to reduce sugar content or increased it. One chart shows how sugar sales - the amount of sugar in tonnes from products per category - have risen by nearly 8,000 tonnes in chocolate confectionery.

Yet PHE chief nutritionist Dr Alison Tedstone says she is taking a "glass half full" approach and that the reformulation programme has "galvanised" the industry into action, claiming that a raft of companies were promising a major drive towards reformulation in the coming months.

Such was PHE's desire not to hammer companies hard, The Grocer understands a league table of retailers' and suppliers' highest-sugar products was removed from the dossier.

Behind the scenes, the food industry had been busy for months trying to persuade PHE not to come down hard on a reformulation programme that was in its infancy and facing major technical challenges.

"We are very pleased with the way PHE presented the report and the tone of its language when it was quizzed on the report by MPs this week," says a senior industry source.
Data gaps
However, critics say it would have been hard for PHE to slam the industry for its failure considering the gaps in its own data. It failed to come up with a measurement of progress in the cakes and morning goods categories. It also had no way of showing how Aldi and Lidl had compared with other retailers and brands because of a lack of baseline data. PHE insisted both areas would feature in its April 2019 report.

However, the biggest gap was in out-of-home. The Grocer revealed in March last year that PHE had encountered a "wall of silence" from OOH companies as it tried to launch the programme.

This week PHE admitted the lack of data and a change to its provider part-way through meant it was not possible to report on progress for the sector and no figures would be available before spring 2019.

That was despite the report revealing that portion sizes and calorie intake from a vast range of OOH products were more than twice the average in other sectors, including biscuits, ice creams and puddings. National Obesity Forum spokesman Tam Fry calls the OOH sector a "runaway juggernaut" doing "what the hell it wants".
Honeymoon
The honeymoon period will surely not last long, with the FDF continuing to describe 2020 targets for certain sectors as "impossible".

PHE, which is already pushing the government to ban "junk food" promotions in the Obesity Plan Mark 2, also made it clear there will be "no excuses" when companies report on reformulation and portion size reduction next year.

Worryingly for those who still claim that would be a disaster for an industry already under pressure from the soft drinks levy (£13m was ploughed into Treasury coffers from the soft drinks industry in the first five weeks of the tax), that could yet include an extension of the levy to new turf.

In fact, supporters of regulation point to PHE figures showing products included in the levy seeing sugar levels per 100ml fall by 11% from 2015 to 2017, far more than products in the voluntary programme.

What works better, the carrot or the stick? The industry will find out over the next crucial 12 months.